In response to the invitation of the Supreme Court in Saudi Arabia, the Kingdom's astronomical observatories, tens of spectrographers and hundreds of those interested in astronomy are preparing to investigate the sighting of the Shawwal crescent for this year 1443 AH.
There are 10 official astronomical observatories in the Kingdom, the most famous of which is the Sudair Observatory of Majmaah University, which is located in Hotat Sudair on King Khalid Road.
The city of Hotat Sudair was chosen to observe the astronomical crescents by a specialized scientific team of astronomy professors at King Saud University in the past, who spent nearly 6 months, until they unanimously determined a site located southwest of the city of Hotat Sudair as the best site for the astronomical, and to follow the movement of celestial bodies and star groups. .
tamer observatory
The Tamir Observatory, was established in 1436 AH, under the supervision of the Tamir Municipality, and since that time it has been participating in the rest of the Kingdom's observatories in seeing the crescents, after an invitation from the Supreme Court of the Kingdom to investigate.
It is located in a high mountainous area characterized by a lot of stones and few dust, which facilitates the process of vision, which represents an important dimension in the investigation process. The observatory is also located at an altitude of 680 m from sea level and at an altitude of 80 m from the surface of the earth. It is an ideal location for setting up an observatory.
Mecca Observatory
The Makkah Observatory is considered one of the oldest observatories in the Kingdom. It was initially based in Jabal Abu Qubais during the reign of the founding king and recently moved to the clock tower in Makkah Al Mukarramah.
The clock tower is considered the third tallest building in the world and is also known as the Makkah Tower and the Abraj Al Bait Towers, and is located a few meters from the Grand Mosque. It is 601 meters (1,972 feet) tall, has 120 floors above ground and 3 floors underground, and has 96 elevators.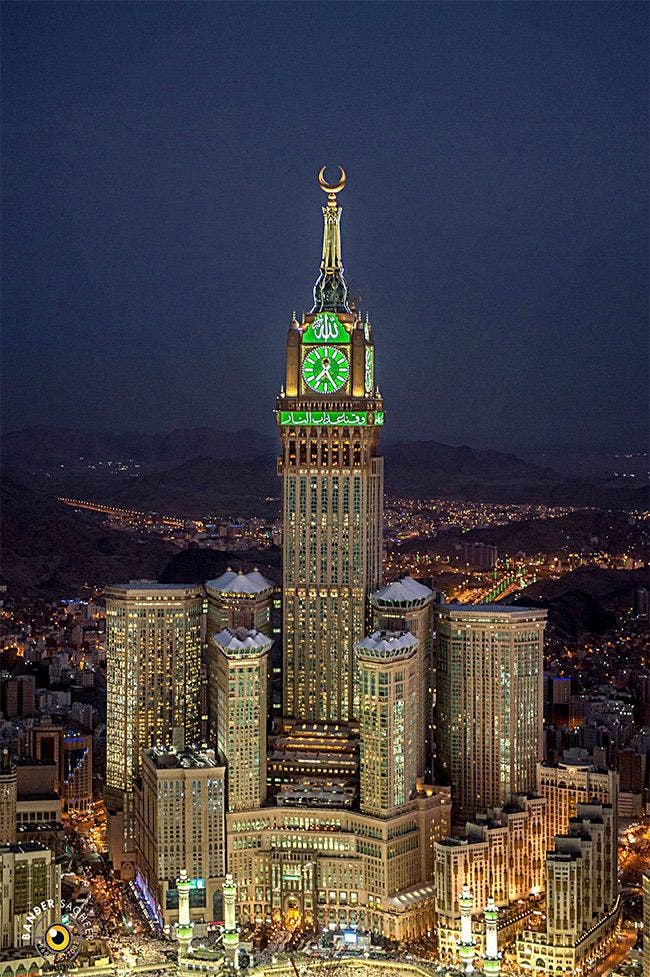 Clock Tower – Photography by a small bender
There are several other observatories in which the Shawwal crescent will be observed for this year 1443, including the following:
– City Observatory
Riyadh Observatory
Dhahran Observatory
Al-Qassim Observatory
Hail Observatory
Tabuk Observatory
Shaqra Observatory
It is noteworthy that the Supreme Court had earlier called on all Muslims in all parts of Saudi Arabia to investigate the sighting of the crescent of the month of Shawwal on Saturday evening.
It also called on whoever sees it with the naked eye or through endoscopes to inform the nearest court to him, record his testimony to it, or contact the nearest center to help him reach the nearest court.