Last Updated: 18 May, 2022 07:51 AM
Published: 18 May 2022 07:51 AM
Last Updated: 18 May 2022 07:51 AM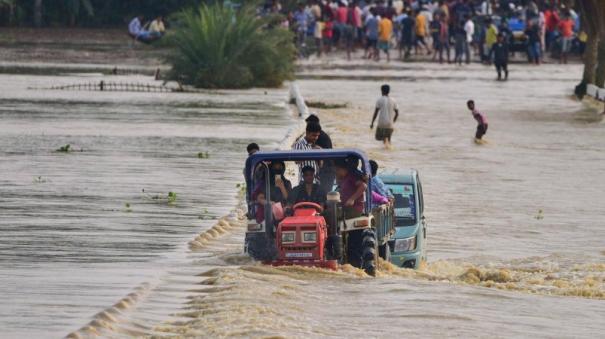 Guwahati: Northeastern states have been receiving continuous rains for the last 3 days. This caused floods and landslides in two states, Assam and Arunachal Pradesh. So far 11 people have been trapped in it. 8 people are missing.
Five people have been killed and several others injured in a landslide in Ita, the capital of Arunachal Pradesh, on the night of the 15th. Many organizations, including the National Disaster Rescue Team and the State Disaster Rescue Team, are involved in the rescue operation there. They rescued 6 people.
Arunachal Pradesh Chief Minister Bhima Kandu has expressed his condolences to the families of the victims. The district administration has also set up relief camps for the victims. Assam: Two killed in floods, four in landslides Six people are missing in the flood-hit Sachar district. About 2 lakh people have been affected by the continuous rains in the last 3 days in the northeastern states. Of the 72 relief camps, 33,248 are homeless.
2,800 passengers rescued
A total of 2,800 passengers were stranded on two trains on the Lumding-Badarpur route in Assam's Tima Haso district after being cut off for the past two days. They were rescued by the Indian Railways with the help of the Air Force. About 18 trains have been canceled here due to the need to repair damaged railway tracks.
.