An additional 50 lakh Indians have died in India in the 2nd wave of Corona due to the wrong decision of the Central Government Congress Former President Rahul Gandhi Accused.
Former Chief Economic Adviser to the Union Government Arvind Subramaniam, along with economists Abhishek Anand and Justin Saunders, have released a report on the death toll from the 2nd wave of the Corona in India.
According to a three-part report released by the Center for Global Development, an additional 50 lakh people died in Corona in India between January 2020 and June 2021.
However, the official report of the Central Government states that only 4.18 lakh people have died in Corona in India so far.
Pointing to the Center for Global Development report and linking it to its Twitter page Congress MP Rahul Gandhi Commented on Twitter. In it, "This is true. "More than 50 lakh more of our brothers, sisters, mothers and fathers have died in the 2nd wave of corona due to the wrong policies of the Indian government."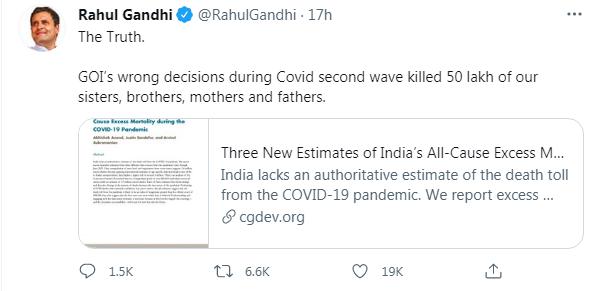 On another Twitter Rahul Gandhi Saying, "There is no compensation for those who lost their lives in the peasant struggle. Everything is recorded in the tears of those who lost their loved ones. "
Statewide, citing the Center for Global Development Reporting Congress MP Anand Sharma spoke. He then called for a nationwide survey of those killed in the corona and for compensation to be announced
.