Last Updated: 18 May, 2022 07:41 AM
Published: 18 May 2022 07:41 AM
Last Updated: 18 May 2022 07:41 AM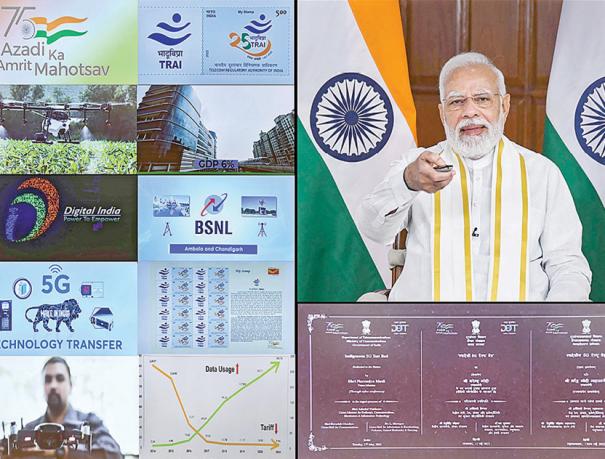 New Delhi: Prime Minister Narendra Modi on Friday said that the target is to implement 6G telecom service by 2030.
The Telecommunications Regulatory Authority of India (TROI) Friday ceremony was held in Delhi yesterday. After releasing the special postage stamp on the occasion, Prime Minister Modi spoke via video:
5G service to be launched in India soon To this end, the framework for testing locally made 5G devices is operational today (yesterday) in the first 5 locations. This is very important in the policy of autonomy. With the state-of-the-art technology facility of the telecommunications industry, 5G telecommunication devices can be tested in this system. Congratulations to the team that includes the IIT experts who created this. This will play an important role in making 5G technology available to villages in the country.
At the same time it is necessary to modernize the connection facility. And it will bring about positive changes in the administrative practice of the country. Lifestyle is simple and starting a business is simple. Promote growth in all sectors including agriculture, health, education and infrastructure. And it will provide employment to a lot of people. To expedite the implementation of 5G service, a joint effort of the government and the industry is required.
During the 2G era, the telecom sector faced various problems such as corruption and delays in policy making. However, recovering from that, the country rapidly shifted from 3G to 4G technology. Now it has advanced to 5G. The implementation of 5G services will add an additional $ 45,000 crore to the Indian economy.
The target is to switch to 6G technology by 2030. It will provide high speed internet facility. The committee set up for this has started its work.
The BJP government has infused new energy into the telecom sector in the last 8 years. Troy played a key role in this. Cell phone production was encouraged locally to make cell phone accessible to the poor. As a result, the number of cell phone manufacturers has increased from 2 to over 200.
Steps are being taken to connect all the villages in the country through optical fiber. Prior to 2014, only 100 villages had access to this facility. Now it has been expanded to 1.75 lakh villages. Thus he said.
.