Riyadh: Saudi Arabia's 92nd National Day celebrations are progressing in various parts of the country. Ahead of September 23 as the national day, military units in various provinces have performed spectacularly on the ground and in the skies of Saudi Arabia. In Jeddah, Al Khobar, Dammam, Jubail, Alhasa, Taif, Tabuk, Abaha, Sarat Abeedah, Khamis Mushait and Albaha, the land, naval and military units are performing brilliantly. Various programs as part of National Day celebrations will continue till 26th of this month.

Mizhivekam fireworks for celebrations
Accompanied by a musical ensemble, the one-hour practice performance held in Jeddah from 4:30 pm brought new experiences to the ears, eyes and minds of the audience. In Jeddah and Jubail, the Navy's bikes, helicopters and boats performed exercises. Navy bicycle riders will perform at Dariya in Riyadh from 4pm to 5pm. Along with this, parades of various military units will also be staged as part of this. Notable among these are the Royal Guard's parade and road show in Riyadh and Jeddah.
Military parades to add to the celebrations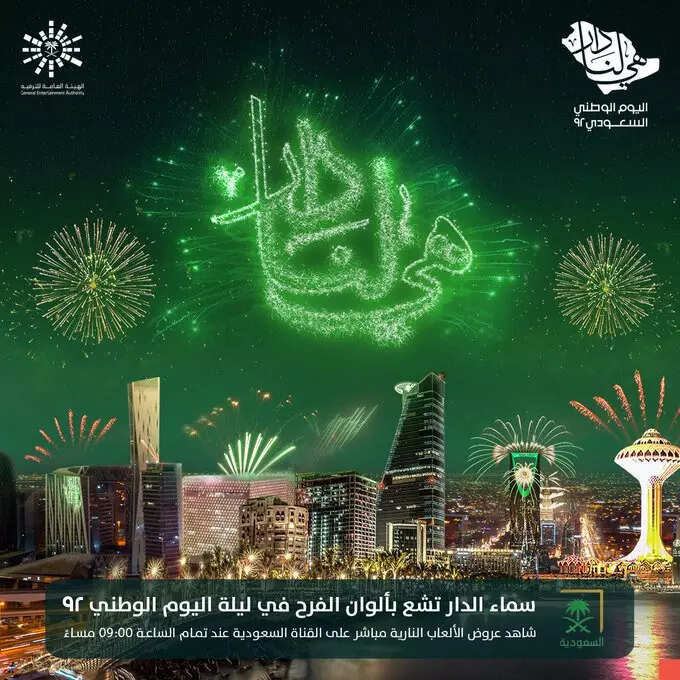 The Ministry of Defense has informed that air exercise demonstrations will be held in 14 cities of different provinces in connection with the celebration of the 92nd National Day of Saudi Arabia. There will be aerial demonstrations on the 22nd and 23rd at 4.30pm in Riyadh's Al Khairwan district and north of Prince Turki bin Abdulaziz Al Awwal Road. Air exercise demonstrations will be held at Khamis Mushaithil Boulevard, Sarat Ubaidah and Tanmiya on 22nd and 23rd at 5.30 pm. Taif at King Fahd Airbase, Alhada, Alshafa, Alkhamseen Street, Alrudaf Park on 22nd and 23rd at 5.30pm and on the same days in Albaha at 5pm at Prince Mohammed Bin Saud Park and at 5pm at Baljurshi National Park and in Abaha at 5.30pm at Abaha Airport Park, Alfan Street, Al Alia City Air exercise demonstrations will also be held.
The theme of the celebration is this is our house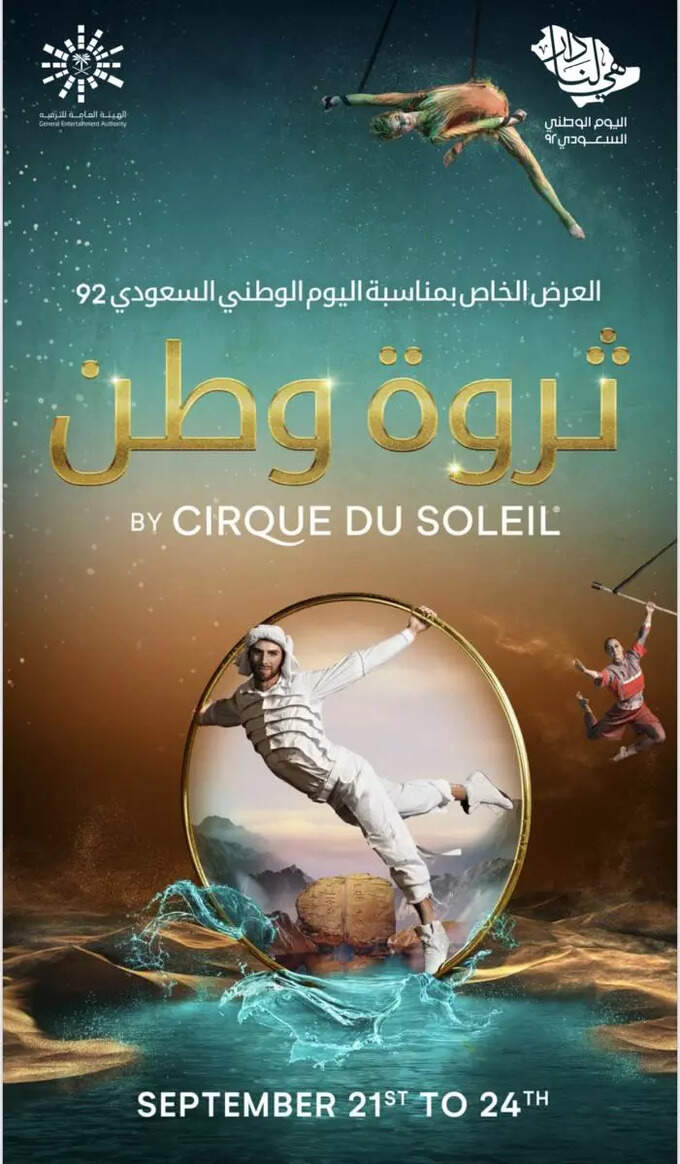 This year's National Day celebration is on the theme 'This is our home'. The National Day celebration program which lasts for nine days is the biggest National Day celebration in the history of the country. Last day, Chairman of the Board of Directors of General Entertainment Authority, Turki Al Sheikh, started the celebrations. He informed that warplanes, helicopters, passenger planes, ships, boats etc. will also be deployed in the military exercises. He also informed that the biggest dance performance in the history of the country is being held as part of the National Day celebration. The air show is called A Homeland Salute. 34 programs will be held in 14 regions as part of this.
Circus show at Riyadh University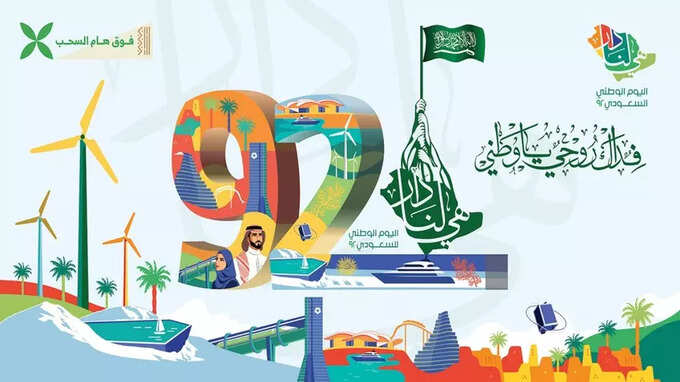 A special circus show will also be staged at Princess Noora Bint Abdul Rahman University in Riyadh from September 21 to 24 as part of the National Day celebrations. The exhibition will be titled The Wealth of a Homeland. This is the first time that Cirque du Soleil Circus has made its debut in Saudi Arabia with gravity-defying sports performances and entertainment. The performances will evoke the country's rich history, culture and values. As well as its journey into the future, it flourishes in the circus.
Entertainment and music programs all over the country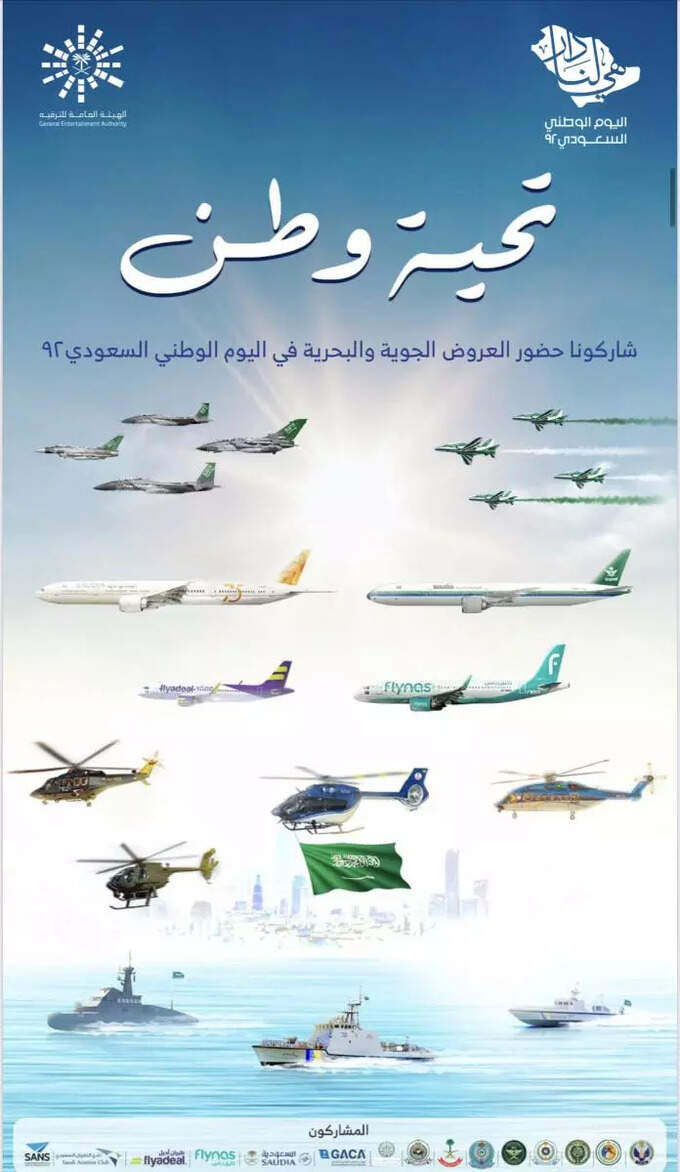 This year's National Day celebrations are not limited to Riyadh and Jeddah. Various entertainment and music programs will be staged in all 13 regions of the country as part of this. Various entertainment programs are organized in public parks, entertainment zones, beaches etc. in the country. The Prince Mohammed Bin Abdul Aziz Sports City in Madinah will witness the National Operetta, which depicts the history of Saudi Arabia beautifully with the help of technology. More than 200 artists including prominent artists Ibrahim Al Hakami, Naif Al Badhi and others will be lined up for the event to be held here on September 23. Exhibitions of folk arts have also been arranged as part of this. After that, an exhibition will be prepared here that calls out the history of Saudi. Musical programs will also be staged in the major centers of Riyadh, Abha, Al Qasim, Jeddah and Al Ahsa. Prominent artists and musicians from the Middle East and North Africa including Mohammed Abdu, Abadi Al Jauhar, Rabih Sakhar, Majid Al Muhantis, Ahlam, Angham, Ahmed Saad and others will participate in the event.
12 entertainment festivals will start today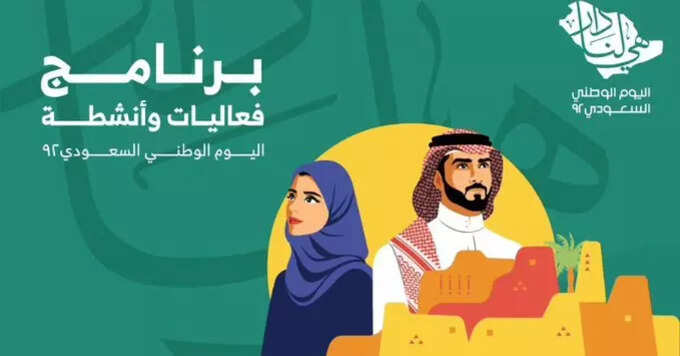 As part of the National Day celebrations, the entertainment events held at 12 centers will begin today. These will last from September 21 to 24. Light and sound shows, drama performances, technology-assisted exhibitions, games etc. will be staged. Special musical programs using various musical instruments will also be held as part of this. Read them to the tune of the National Anthem. Grassy Park in Riyadh, Prince Majid Park in Jeddah, King Abdullah Park in Dammam Waterfront, King Khalid Park in Buraidah, Al Nakheel Park in Al Jouf, Prince Fahd Bin Sultan Park in Tabuk, Sama Abha Park in Hail, Al Qayyim Park in Al Bahai, Aba Rashash Park in Najran, Arar An entertainment festival will be held at Al Rifa Park and Heritage Village in Jazan to complement the festivities.
Aerobics demonstrations at 18 locations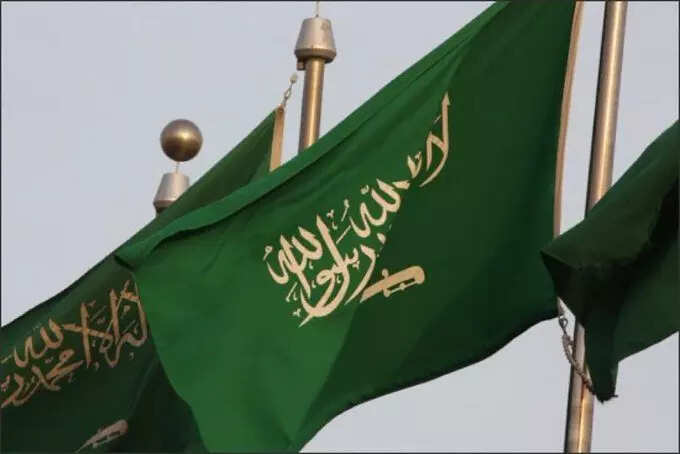 The authorities have also prepared firecrackers as part of the National Day celebrations in various parts of the country. Fireworks will be set off at 9 pm in 18 places such as Riyadh, Buraidah, Alkobar, Madinah, Abaha, Albaha, Najran, Jizan, Hail, Arar, Sakaka, Tabuk, Jeddah, Taif, Alhasa, Unaisa, Hafar Albatin and Dammam. On 23rd National Day at 9 pm at the same time in all the 18 centres, a fireworks display will be organized. Up to a height of 300 meters, they are amazing in different colors. Officials informed that the fireworks festival will give the people such amazing views that they will leave memories of the National Day celebration in their minds forever.