Last Updated: 11 Jun, 2022 07:12 AM
Published: 11 Jun 2022 07:12 AM
Last Updated: 11 Jun 2022 07:12 AM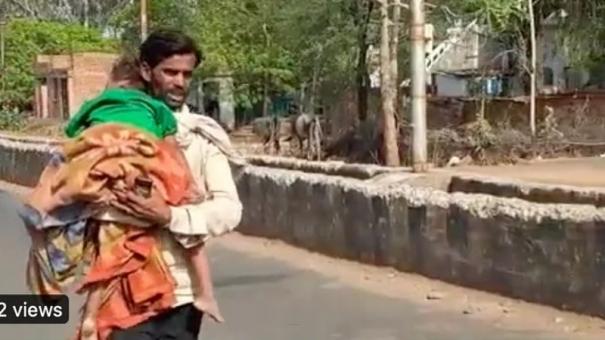 Bhopal: Lakshman Akirwar hails from Bowdy village in Chattarpur district of Madhya Pradesh. His 4-year-old daughter fell ill last Monday and was taken by family to a nearby Buxwaga health center. There the little girl's health deteriorated. He was taken to the nearby Damoh District Hospital. However, the girl died on the same day without any treatment.
According to the girl's family, Amarar asked the hospital staff to transport the girl's body to her hometown, but they refused.
Following this, they brought the girl's body around the blanket by bus to Buxwaka. The girl's father Lakshman then approached the Buxwaka town panchayat as he could not afford a separate vehicle to go to the village from there.
But since they also refused to arrange a vehicle, Lakshman had no choice but to carry his daughter's body on his shoulders.
But Damoh District Hospital official Mamta Timori denied the girl's family's allegations. "We have an ambulance. We can provide ambulance services through the Red Cross or other charities. But no one approached me asking for Amar's vehicle. "
Another incident has taken place in Sagar district showing the negligent attitude of the authorities in MP. Here Bhagwantas had to take his brother's body by hand cart from the Kathakotta Health Center. Bhagwandas said the body was taken away in a handcart as the authorities refused to transport Amar.
Regional Medical Officer Suyash Singhai said, "The patient was brought to the hospital dead. His family took the body away after a doctor on duty instructed them for an autopsy. "
A pregnant woman died on the way to hospital in Bhagwanpura, Khargan district of Maharashtra. His family blamed the government for not getting the ambulance facility despite repeated attempts. An official said an inquiry had been ordered into the matter.
.