Published: 29 Apr 2021 03:12 am
Updated: 29 Apr 2021 03:56 am
Published: 29 Apr 2021 03:12 AM
Last Updated: 29 Apr 2021 03:56 AM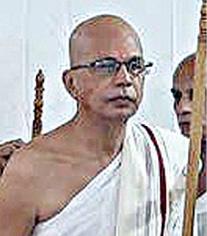 Mumbai
He is the right hand man of Reliance Industries chairman Mukesh Ambani Prakash Shah (64). He was the Vice President, Project Division, Reliance Industries.
He relinquished his luxury life immediately after suffering a corona injury last year. On the 25th he was ordained as a Jain monk dressed in white. He is survived by his wife Naina Shaw.
BTech and MTech graduate in Chemical Engineering. A graduate of IIT Bombay, he was the Vice President of Reliance Project Division. His annual salary at retirement is Rs 75 crore.
Notably, his youngest son became a Jain monk 7 years ago at the age of 24.
.