Highlights:
Heartfelt farewell to Nalgonda SP Ranganath
Police personnel escorting the chariot
Ranganath will never forget your intimacy
Police personnel bade farewell to Nalgonda District SP, DIG AV Ranganath, who is going on transfer as Hyderabad Traffic Joint Commissioner. Ranganath, who was transferred after serving as the District SP for three years and ten months, was hailed by police, AR and ministerial personnel. He said goodbye to him in an unforgettable way. Rema Rajeshwari, a 2009 IPS officer who took over as district SP on transfer, took charge on Monday.

Later, police personnel in the district bade a hearty farewell to DIG AV Ranganath on the chariot. District DSPs, CIs, SCs and police personnel were present and loaded him into a jeep, pulled the jeep with their hands and showered him with flowers. Thodkoni went from the district police office to the SP camp office. He was added to the house. Police personnel are emotional that they are going on an officer transfer that they admire so much.
DIG Ranganath greeted the staff along with his family. He thanked the staff for their support. He advised the staff to work more efficiently and meet him in case of any need. Ranganath said that he would do anything to help if it was within his purview. He would never forget his association with the district and the cooperation of all of you.
Avie Ranganath, who came as Nalgonda District SP about four years ago, was also promoted as DIG here. He served as the District SP in the capacity of DIG. Miryalaguda, who created a sensation in the country, is known to have acted effectively during the Pranay murder case.
Special teams have also been set up to monitor the smuggling of cannabis from Visakhapatnam to the Telangana border. The special initiative to crack down on missing cases has been well-received by many families. He is also the investigating officer in the joint AP and the sensational Ayesha Meera murder case.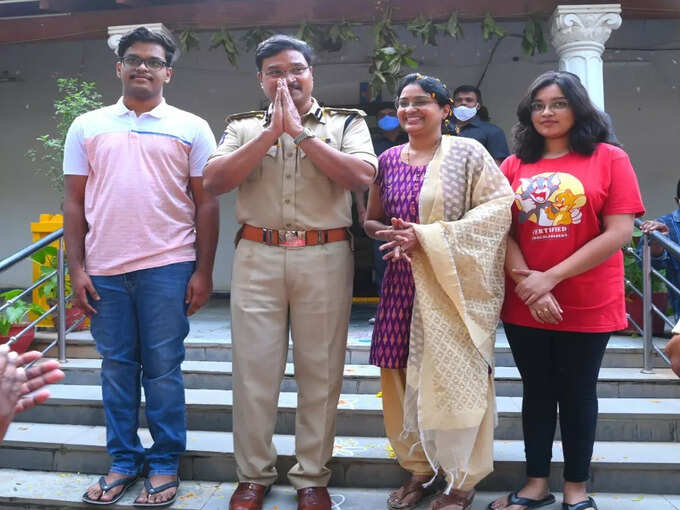 Also Read:

Sirisilla netanna amazing talent .. matchsticks, saris that go away at the tip of the cane .. to tie!
.