Ukrainian police have opened criminal investigations into the deaths of more than 12,000 people nationwide during the war with Russia.
In the same context, the authorities in the Kyiv region near Bucha reported, today, Monday, that the bodies of several victims, with their hands tied behind their backs, were found in a mass grave.
Andrei Nebitov, head of the Kyiv regional police, said the bodies of seven civilians had been recovered from the mass grave. Two bodies were found with their hands tied and gunshot wounds to the knees and head.
Bodies exhumed from a mass grave today in Bucha
Nebitov added: "Gunshots to the knees tell us that people were tortured. Hands tied behind the back with tape say that people were held hostage for a long time, and that enemy forces tried to get any information from them."
Since the withdrawal of Russian forces from the region at the end of last March, the authorities say that they have found the bodies of 1,316 people in the vicinity of Kyiv.
On the national level, Ukrainian police chief Igor Klimenko told Ukraine's Interfax news agency on Monday that criminal investigations had been opened into the killing of more than 12,000 Ukrainians, including finding some of them in mass graves.
He said the mass killings of people were caused by snipers firing from tanks and armored personnel carriers. Bodies have been found lying in the streets and others in their homes, as well as in mass graves.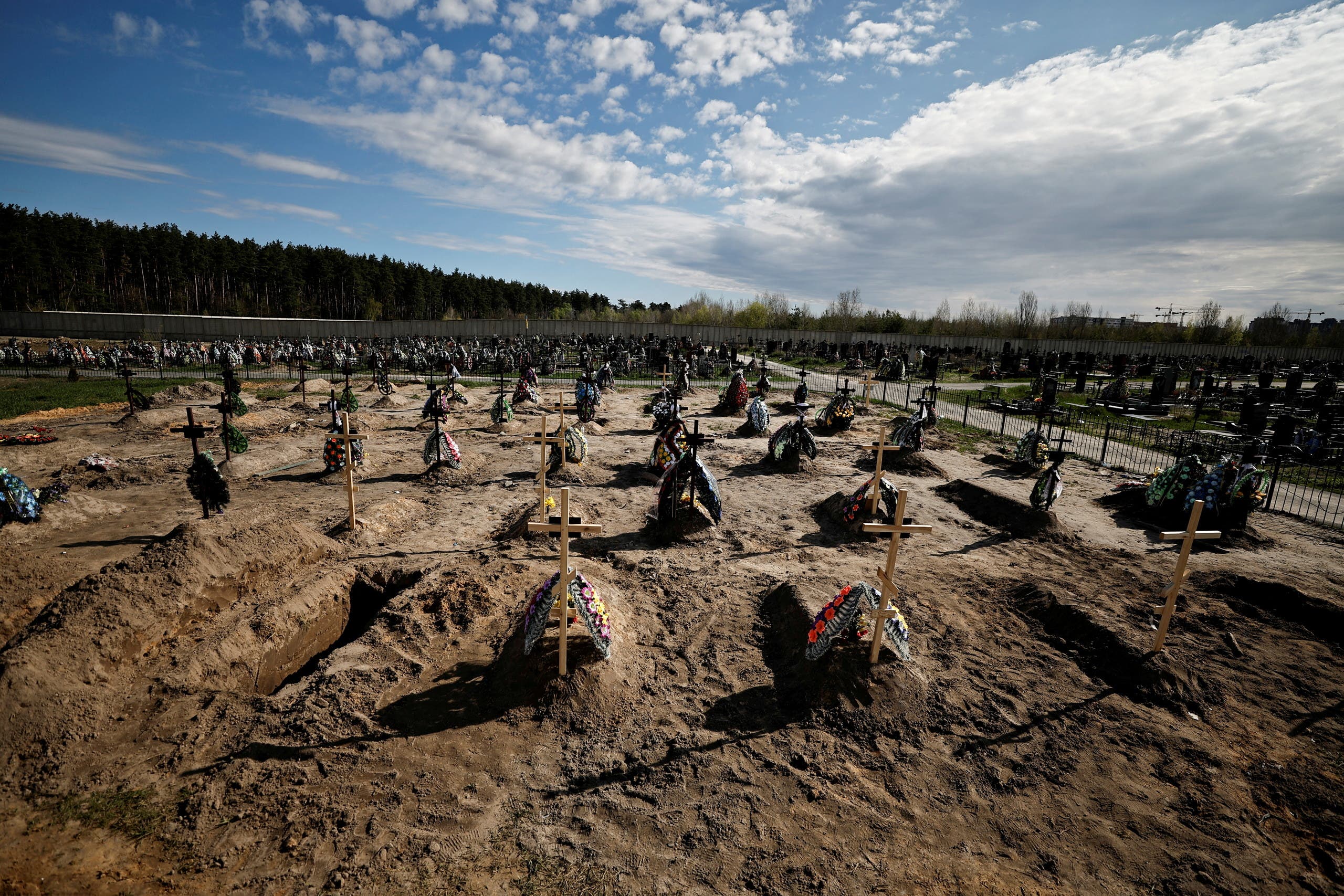 A cemetery erected by Ukrainians last April for the Bucha victims
Klimenko did not specify the number of civilians and military personnel out of more than 12,000.
For his part, Ukrainian President Volodymyr Zelensky said on Sunday that the full information about the number of bodies in mass graves or anywhere else is not known. He noted the killing of two children with their parents in the basement of an apartment building in Mariupol in a Russian bombing.
"Why is this happening in 2022? This is not the 1940's. How could the mass killing, torture and burning of cities and camps that the Russian army set up in the occupied territories and resemble Nazi concentration camps?" asked Zelensky.