During the last hours of the night, a meeting was held between the commander of the Sudanese army, Abdel-Fattah Al-Burhan, and the head of the government (which dissolved last month), Abdullah Hamdok, according to Al-Arabiya/Al-Hadath sources reported today, Sunday.
The sources indicated that there are expectations that a political consensus will be announced in the coming hours, after the two parties agreed on a number of points.
Hamdok conditions
She also indicated that the meeting that took place between Al-Burhan and Hamdok, the first since the prime minister left the army commander's house and remained under house arrest, dealt with the latter's return to the premiership.
Also, the information revealed that Sudanese public figures played an important role in the reconciliation between the two sides. However, she added that Hamdok insisted on releasing all political detainees, and consensus was reached on this issue.
Demonstrators in Khartoum carry a picture of the dismissed Prime Minister Abdalla Hamdok (Archive – AFP)
In addition, the Prime Minister stipulated the article, that he not be appointed by the Commander-in-Chief of the Armed Forces.
It also stuck to the formation of a government of competencies without excluding the signatories to the Juba Agreement.
The sources pointed out that a committee to review the provisions of the constitutional document, which includes national legal figures, will meet today, Sunday, to resolve the contentious points about Hamdok's return.
Several mediations were launched since last month, in order to form a new government, but Hamdok adhered to the condition of releasing the detainees, and canceling the exceptional procedures.
American and African condemnation
It is noteworthy that since the army announced on October 25 last (2021) the imposition of a state of emergency and the dissolution of the previous government and sovereign council, there have been international and regional calls to return the country to the democratic path, and the partnership between the military and civilian components that have run the country since 2019.
Yesterday, the United States reiterated its call on the military to return Hamdok to the government, protect protesters and the right to expression. The US State Department and the African Union called for the "excessive use of force" against protesters against the army's exceptional measures.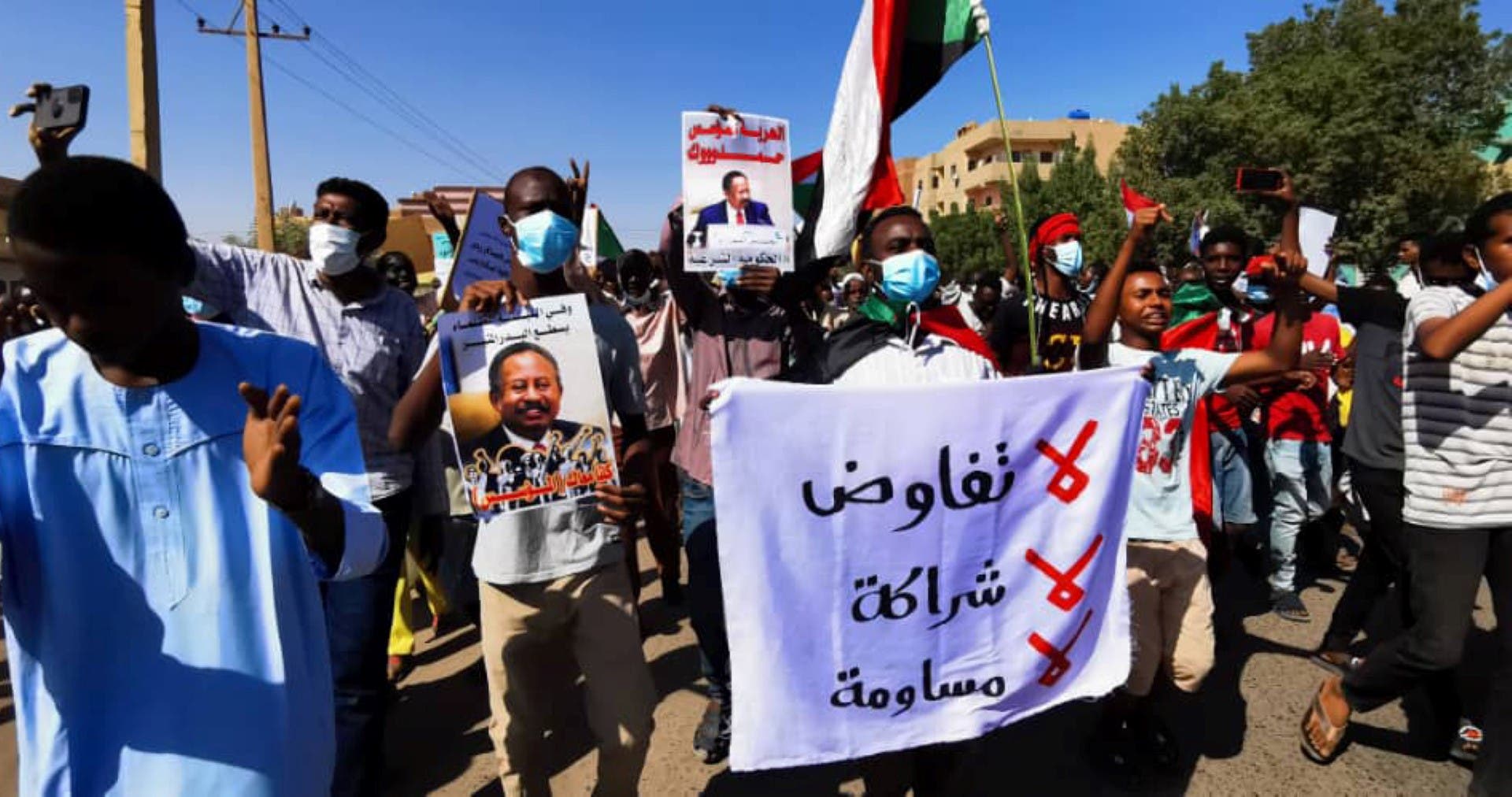 Demonstrations in Khartoum (November 13, 2021 AFP)
The ministry's spokesman also called on the Sudanese authorities to exercise restraint and allow peaceful demonstrations.
In turn, the African Union, which suspended Sudan's membership after October 25, urged in a statement yesterday, Saturday, the country's leaders to "restore constitutional order and the democratic transition." Moussa Faki Mohamed, head of the Union Commission, condemned what he described as "the violence that occurred on Wednesday, against the protesters."