Published: 14 Sep 2021 03:13 am
Updated: 14 Sep 2021 04:58 am
Published: 14 Sep 2021 03:13 AM
Last Updated: 14 Sep 2021 04:58 AM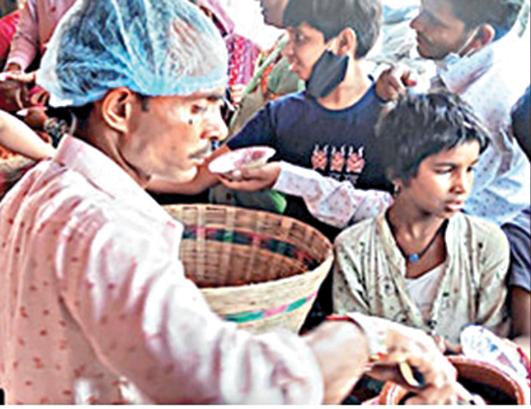 Bhopal
A Bhopal businessman has celebrated the birth of a baby girl by giving away Rs 50,000 worth of Bani Puri to the public for free.
Anchal Gupta hails from Bhopal, Madhya Pradesh. Bani Puri is doing business in the trolley. The 28-year-old last month baby girl Is born.
Subsequently baby girl Gupta has distributed Bani Puri free of cost to the public in his area to celebrate his birthday. He has given Bani Puri worth Rs 50,000 for free.
about this Mail Gupta Saying, "Men and women should not be discriminated against at birth. This is something all people should shop for. That's why I gave Bani Puri to the public for free.
To my wife baby girl Some relatives who heard about the birth warned that you will face financial burden and hardship will come. But I don't care about that at all.
I am so proud of the baby girl. I am a small trader. I make little profit. That's enough for me though. Why bother with childbirth. All parents who have girls are lucky. I distributed Bani Puri for free last Sunday to make this known to the world.
I gave it away for free from 1pm to 6pm to people all over Bhima Ganj Road in Kolar area of ​​Bhopal. Corona obeyed the rules and stood in long queues and were bought by the public. Some did not follow the order and were beaten. "
.