A new convoy of the United Nations is heading to the Azovstal Industrial Complex, the last enclave of the Ukrainian resistance in the city of Mariupol, with the aim of evacuating civilians trapped there, a UN official announced today, Thursday.
"Today, as we speak, a convoy is heading to Azovstal by tomorrow morning with the hope of evacuating and returning the remaining civilians who have been in this grim hell for several weeks and months," UN Assistant Secretary-General for Humanitarian Affairs Martin Griffiths said during a conference in Warsaw. safely."
From a previous operation to evacuate civilians from Azovstal
This convoy constitutes a new attempt to evacuate civilians after the United Nations and the Red Cross said on Tuesday that 101 civilians were pulled out of tunnels at the Azovstal steel plant in the strategic southern port city of Mariupol. This was the first evacuation of civilians completed from this large industrial complex. They were transferred to the city of Zaporizhia, which is under the control of Kyiv.
For his part, Russian President Vladimir Putin confirmed today that the Russian army is still "ready" to ensure the "safe" evacuation of civilians trapped with Ukrainian soldiers in the Azovstal complex.
The Kremlin quoted Putin as saying, during a phone call with Israeli Prime Minister Naftali Bennett, that "the Russian army is still ready to ensure the safe evacuation of civilians."
Putin also said that Kyiv should order the Ukrainian fighters holed up in Azovstal to lay down their arms.
This comes as the commander of the Ukrainian forces in their last stronghold in the city of Mariupol appealed to the international community to pressure Russia to allow the evacuation of civilians and wounded soldiers.
Heavy fighting broke out today at the besieged Azovstal Steel Factory in Mariupol, as Russian forces attempted to complete control of Mariupol.
Hundreds of Ukrainian soldiers are holed up in the underground steel factory tunnels, many of them wounded, and some civilians with them as well.
"Wounded soldiers are dying because of a lack of medicine," Captain Svyatoslav Palamar, deputy commander of the Ukrainian Azov Regiment, said in a video statement from the steel plant's tunnels on Thursday.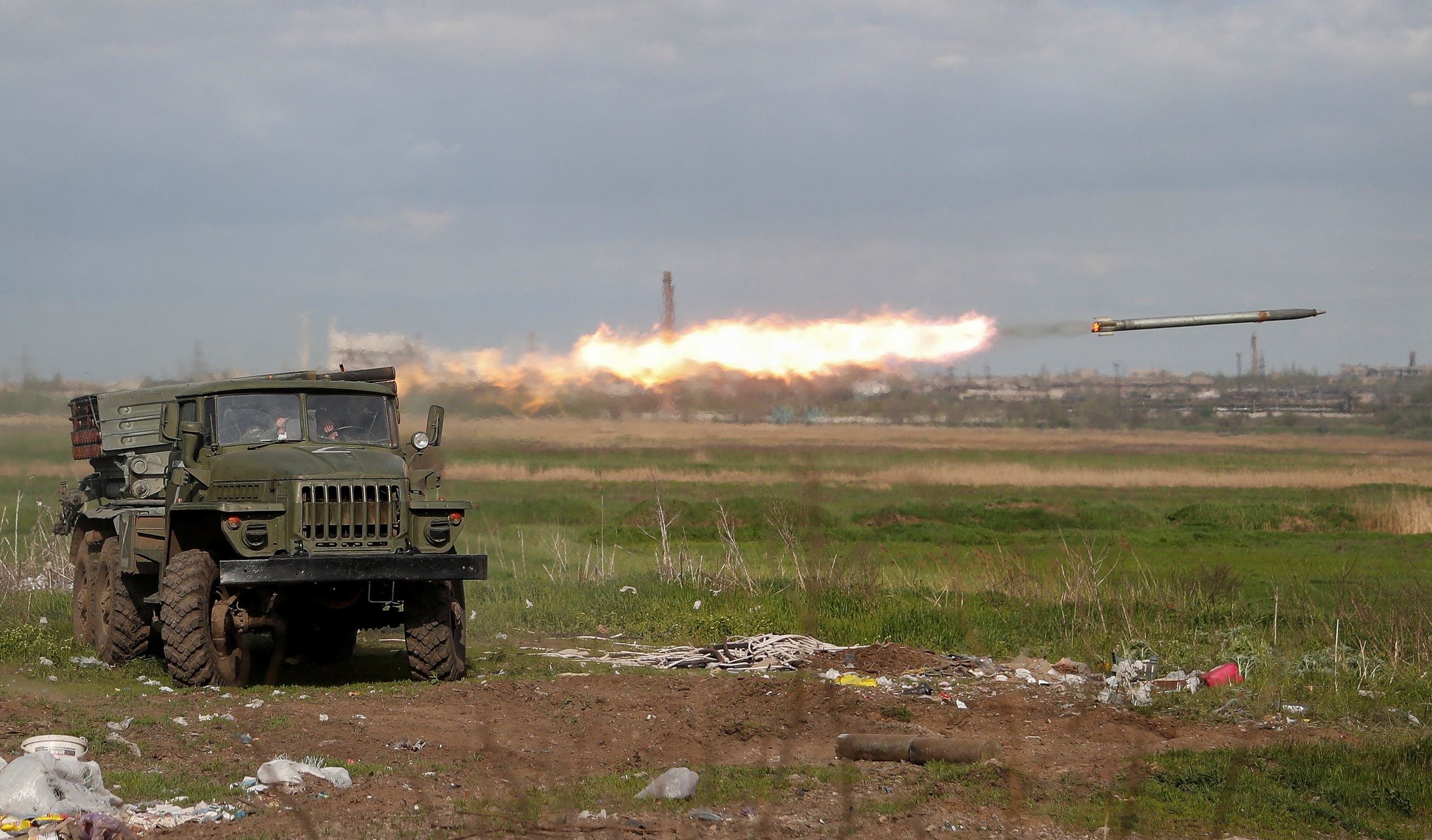 Pro-Russian forces near the Azovstal complex
Ukrainian President Volodymyr Zelensky urged help in ensuring the evacuation of the wounded and civilians still in bunkers.
Addressing the international community, Ballamar denounced the Russians' refusal to "observe any moral norms and destroy individuals before the eyes of the world."
Russia maintains that its forces will not enter the labyrinth of tunnels at the steel plant, but Palamar said that Russian forces are fighting at the Azovstal Mill.
Palamar added: "It is the third day that the enemy penetrates the territory of Azovstal, where fierce bloody fighting is taking place."