More than 13 lakh people took part in the 3rd Sahi holy bath at the Kumbh Mela in Uttarakhand on the same day yesterday.
As the Corona 2nd wave threatened across the country, he swam without any worries about it, without following preventive measures, without following the mask, without social exclusion.
Although the Uttarakhand government provided free masks to devotees and sadhus, most did not wear one. The non-observance of social exclusion has caused great fear among the authorities. Concerns have been raised that corona infections are likely to increase in Uttarakhand in the coming days.
The first day of Siddhartha yesterday is considered in the North to be the day that marks Mash Sankaranti and Baishaki. The holy bath is considered very special in the Kumbh Mela that takes place on this day. Following this, millions of people gathered on the banks of the Rishikesh Ganges yesterday for the 2nd holy Sahi bath at Kumbh Mela.
Earlier, in Kumbh Mela in 2010, 1.60 crore people attended the holy bathing event on the day of Aries Sankaranti in Haridwar, which was less than yesterday. Health officials inspected the corona for devotees and sadhus.
Of these, 20 out of 500 samples were confirmed to have corona infection. About 4 percent of coronary artery infections were confirmed. Most refused to come when authorities called for a corona examination of the sadhus.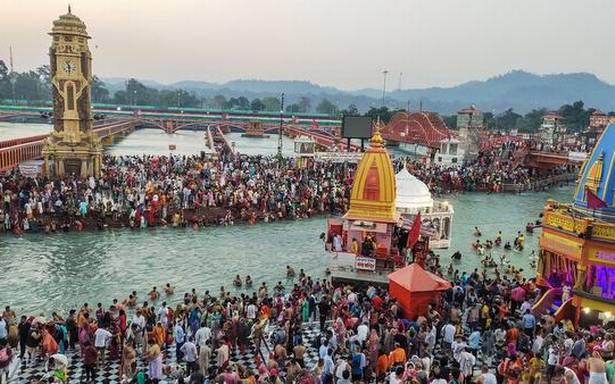 The police and the health department provided free masks and most people and sadhus refused to wear them. Police and health officials were instructed over the loudspeaker to comply with social exclusion, but all of those rules were blown to smithereens.
Officials are concerned that the corona infection is likely to increase further when people who have visited this Sahi holy bath return to their home states.
In Uttarakhand, a maximum of 1,953 people were affected in Corona in a single day yesterday. Of these, 796 were in Dehradun, 525 in Haridwar, 205 in Nainital and 118 in Udham Singh Nagar.
.