In conjunction with the massive demonstrations that took place in the Sudanese capital, Khartoum, today, Sunday, in rejection of the Burhan Hamdok agreement, the adviser to the army commander and head of the Transitional Sovereignty Council, Abdel Fattah al-Burhan, confirmed that the armed forces will not neglect Sudan's security.
Al-Burhan's advisor stressed that the armed forces will remain aligned with the aspirations of the Sudanese people.
In addition, the advisor said, "Today's demonstrations in Sudan raised different slogans, which confirms the different agenda," as he put it.
He added that "the contentious and hostile tone of today's demonstrations may affect the transition in Sudan."
The Burhan Hamdok agreement is the basis
He stressed that the agreement of the President of the Sovereignty Council and Prime Minister Abdullah Hamdok is the basis of the political visions for the transition.
It is noteworthy that, since the early hours of the morning, the army and police forces closed the main bridges linking central Khartoum with Omdurman and Bahri areas to prevent the demonstrators from reaching the Army General Command headquarters, placing concrete blocks on a number of bridges linking central Khartoum with Omdurman and Bahri.
Cars were stationed near the bridges, some of which were mounted with machine guns, and armed soldiers were standing next to them.
Khartoum demonstrations 12/19-2021 (AFP)
The army also closed all roads surrounding its headquarters in the city center with armed cars, barbed wire and concrete barriers, and closed Airport Street, the city's most important street, with armed military vehicles.
The handover of power
For its part, the coordination of the Resistance Committees in Khartoum had announced in a statement that the processions would go to the Republican Palace to demand the handover of power to civilians.
As for the forces of freedom and change, they called on all sectors of the people to participate in the peaceful demonstrations, and put forward a political declaration stressing the need for comprehensive political reforms during the transitional period ending with free and fair elections.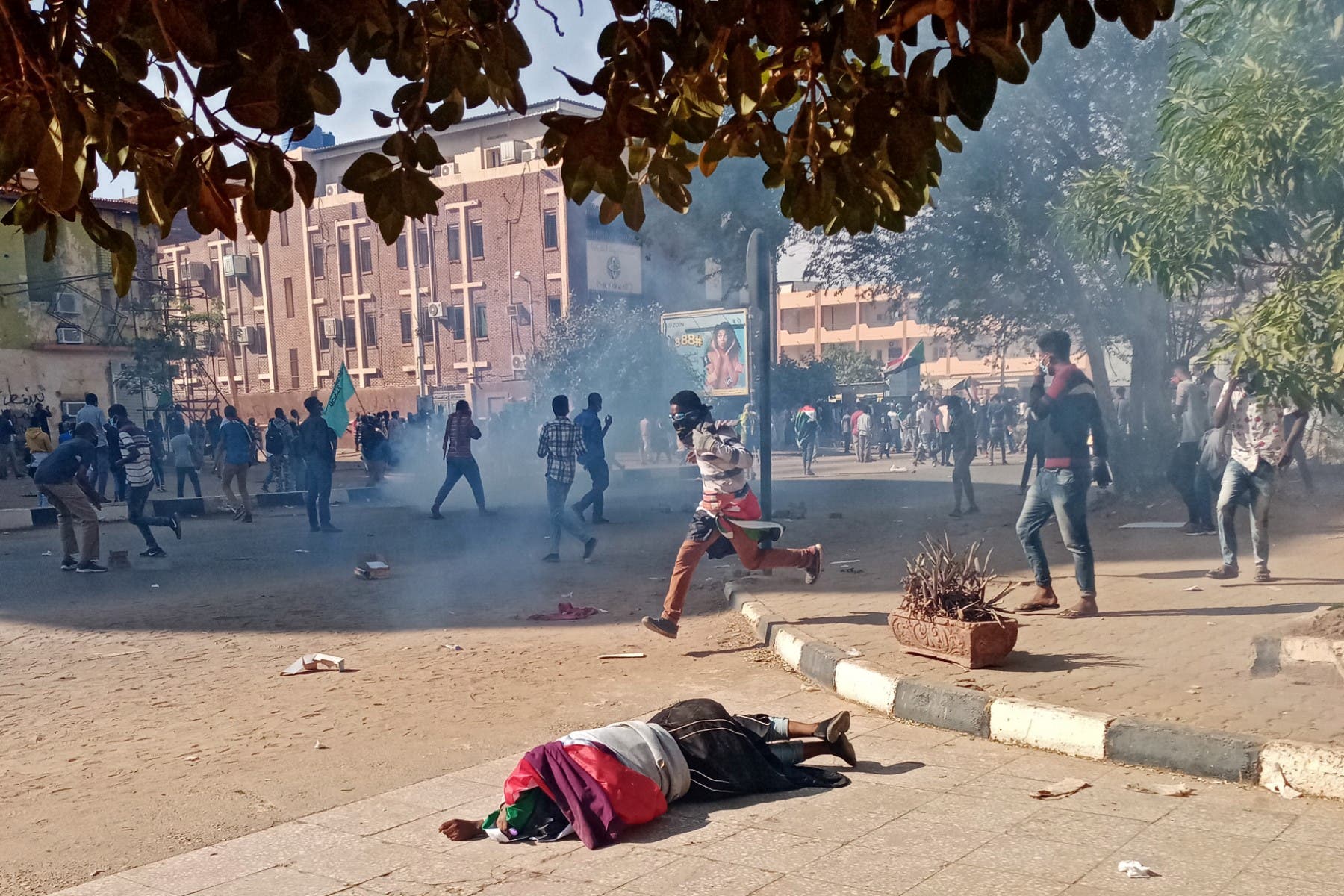 Khartoum demonstrations 12/19-2021 (AFP)
In turn, Prime Minister Abdullah Hamdok stressed, on Saturday, that the political agreement is the most effective way to return to the path of civil democratic transformation, pointing out that his signature on the political agreement came in his conviction that it would lead to the bloodshed of young people.
It is noteworthy that last November 21, Al-Burhan and Hamdok signed a political agreement that included the latter's return to his position and the formation of a government of competencies, but political and civil forces expressed their rejection of the agreement, pledging to continue protests until full civilian rule is achieved.
This came after the military forces imposed, on October 25, exceptional measures, by which they dissolved the government and the former Sovereignty Council, suspended the constitutional document, and imposed a state of emergency.