The "Al-Gharameel", which spreads in the north of Al-Ula Governorate, is one of the rarest and most beautiful natural rock formations, which, with their standing vertical shapes, look like palaces and artistic masterpieces formed as a result of erosion factors from thermal differences, winds, and rains carved thousands of years ago.
Al-Gharameel is also one of the tourist attractions in the governorate, as it is visited by tourists from all over the world, wandering inside its open rock museum, to search for calm, contemplate nature, move away from the crowds of cities and light pollution, and clearly photograph and watch the Milky Way.
Al-Gharamel in Al-Ula and its standing forms
According to the Saudi Press Agency, "SPA", the name Al-Gharamel was mentioned in many novels and books. In the book Lisan Al-Arab by Ibn Manzoor, it was said that Gharmel Al-Gharmul is the huge male, and it was mentioned by this old name in the book "Dictionary of Countries", where Yaqoot mentioned that Al-Gharamel are red plateaus.
The "Wass" lens captured a group of scenes of the nature of Al-Gharamil, with its rock formations, of various sizes and many numbers, which formed a wonderful image created by the Creator.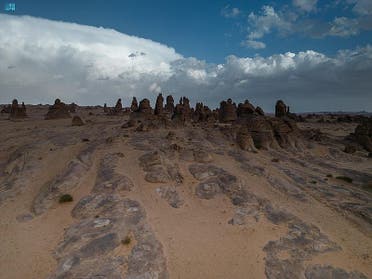 Grammar