It took a very long time for electric propulsion to reach motorhomes. Almost all new motorhomes still have diesel engines. But Volkswagen, the world's largest manufacturer of motorhomes, is changing course. Next April, the new Volkswagen California will be for sale in the Netherlands as a plug-in hybrid.
The combination of petrol engine and electric motor gives it the flexibility and quiet character of a passenger car. Moreover, as a hybrid, the motorhome retains a considerable range, which would be virtually impossible with a fully electric version.
Volkswagen does not yet want to announce the technical specifications, but an ordinary VW Multivan, on which the motorhome is based, will travel 49 kilometers electrically. Together with the petrol engine, many hundreds of kilometers should be possible. The manufacturer therefore stated at the unveiling that you will be welcome in all environmental zones with this motorhome, even if exhaust gas is no longer accepted there. And added that such a quiet electric motor is so pleasant for other campers when you drive over the campsite late at night or early in the morning.
Full electric drive is not yet serious for motorhomes. You don't get nearly as far as with a combustion engine and it makes them more expensive and heavier. The driver will soon need a large driver's license, especially due to the high weight, while most motorhomes can still be driven with an ordinary B (E) driver's license.
Two sliding doors
The new California continues a 35-year tradition at Volkswagen. It has sold 260,000 copies in recent years. This is a quirky camper van, which is why it never really became a great success in the Netherlands. Unlike many other modern camper vans, the California is still a passenger van with extra luxury and comfort: the Multivan.
That entails two sliding doors: handy for reaching the interior, but they also make a camper heavier. While weight is already a challenge with motorhomes because of the driver's license requirements and the maximum weight allowed for the car including occupants and their luggage.
Because the interior has not been radically modified as a living space, the California also lacks certain features that most modern motorhomes do have. Think of a bathroom with fixed toilet and shower, a wardrobe for clothes, a fully-fledged kitchen unit or a fixed bed.
In California, however, numerous, sometimes surprising solutions have been tried to accommodate the spoiled camper. The car is relatively low, so you can enter a parking garage with this camper. But once at the destination, a pop-up roof helps him to have a headroom of 2 meters.
Bicycles or a surfboard can easily be taken along
Behind the height-adjustable front seats – which can be rotated 180 degrees – is a passenger compartment, making the California a normal passenger car for everyday use. The individual, lightweight seats are removable, so you can take bikes or a surfboard with you.
When used as a camper, the seats can be converted into a seating area for eating together or playing a game. The kitchen – including sink, induction hob and fridge – is now also accessible from the outside. A separate toilet (dry/compost type, so without water or chemicals) can be placed behind the front seats. A water hose with shower head makes it possible to shower next to the camper.
Probably very few buyers in the Netherlands
The price of the new VW California is not yet known, but will probably go towards 100,000 euros. As a result, this generation will probably only attract a limited number of buyers in the Netherlands.
A concept model of the new California can be viewed in the coming days at the Caravan Salon Düsseldorf, the largest camping fair in Europe. Volkswagen fans, and especially fans of VW's new fully electric bus, the ID.Buzz, had hoped that this striking, colorful and innovative newcomer would also be presented as a camper van in Düsseldorf. Volkswagen had previously also announced that it would be made into a camper, but has now come to the realization that this makes no sense.
A camping version would make the ID.Buzz much too heavy, so you need a truck driver's license to drive it and you wouldn't get very far on fully charged batteries. So many practical disadvantages make an ID.Buzz motorhome virtually unsaleable, is Volkswagen's final conclusion.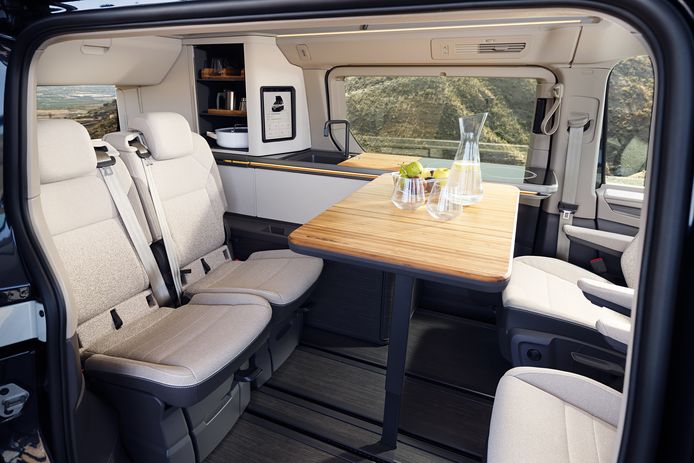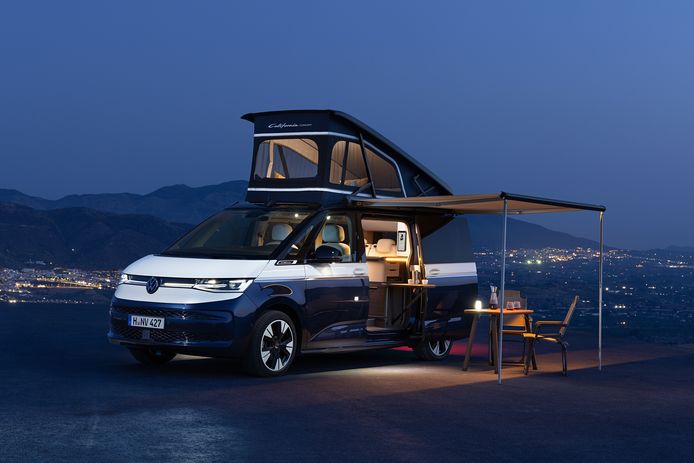 Free unlimited access to Showbytes? Which can!
Log in or create an account and don't miss a thing of the stars.

Yes, I want free unlimited access