Published: 24 Nov 2021 03:07 am
Updated: 24 Nov 2021 06:29 am
Published: 24 Nov 2021 03:07 AM
Last Updated: 24 Nov 2021 06:29 AM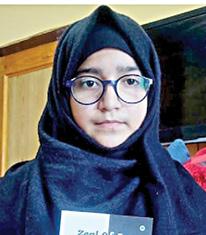  Nagar
Corona has emerged as a young writer writing a book during the curfew 11 years old Kashmir girl.
A curfew was imposed across the country in March last year to control the spread of the corona virus. Thus educational institutions were closed. Lessons were conducted online.
Some students have effectively changed this curfew. In that sense, Adeeba Riyaz, an 11-year-old girl from Pattenku village in Anantnag district of south Kashmir, has emerged as a young writer.
He is a 7th grader in a private school and writes about his thoughts, ideas and feelings when he was isolated during the curfew. It was published last September as a book entitled 'Jill of Ben'. The 96-page book is available on Amazon.
Commenting on this, Adeeba said, "I want to do something innovative. I have been interested in writing since I was a child. I have received various prizes for many articles, poems and short stories I have written. Thanks to my father and brother for encouraging me to write this book. "
.