Gunbrella propels us through an irregularly paced adventure set in an unexpectedly raw world.
The Doinksoft studio surprised us in 2019 with Gato Roboto, a small metroidvania that made the short duration its flag and its main strength. In just four hours he displayed enormous good taste when making decisions that made it an agile and memorable experience. Four years later, with a markedly experimental intermediate title (Demon Throttle, a retro arcade published only in physical format) and after having been purchased by Devolver Digital, it was time to show that Gato Roboto was not just a chance success. However, the result is a title that could have learned some lessons from his own debut.
Gunbrella is a revenge story set in a dark industrial world. Our protagonist sees his life cut short when one night he returns to his house to find his wife dead and his newborn daughter missing. The only clue to the event is the presence of a unique weapon: the Gunbrella, a mix between a shotgun and an umbrella. In their search for the person responsible we will discover a broken world in which a cult is spreading its tentacles… and summoning a few to this world.
It is no coincidence that the weapon is the element that gives its name to the game, since practically the entire adventure revolves around its multiple functions. In addition to its obvious use as a firearm, it is capable of blocking and even returning rival projectiles, without forgetting its essential aspect for platforming phases: it allows us to plan, receive a boost in any direction and even hook onto ropes to gain speed.
The different possibilities of Gunbrella serve fast action phases marked by close encounters; Although later we can obtain different types of ammunition with limited bullets, the standard unlimited cartridges have a very short range that, in compensation, will knock down most rivals with one or two shots. This viscerality is a high point of some platform phases that perhaps lack a little more imagination and originality.
It seems that the ideas he is launching are not fully exploited, leaving him half-hearted when it comes to exploring the possibilities of, for example, puzzles based on magnetic switches or a factory full of mechanisms that are activated successively. . Not even the final bosses manage to provide an adequate closure to these phases, since they are quite repetitive; They have few attack patterns and such obvious openings that sometimes we miss them almost accidentally.
Although much of the promotional campaign has focused on the platforming and shooting phases, we also spent a good time in a series of towns completing small optional tasks, stocking up on resources before a raid, upgrading Gunbrella itself, or simply talking to the players. inhabitants of the world. Each region and faction has its own problems to deal with; There are those who are content with arming themselves to the teeth to protect themselves in a Mad Max-style junkyard society, while others aspire to achieve a higher social echelon in the world.
The panorama in these locations is bleak: the extraction of a resource called Crude has not only caused extreme impoverishment of the inhabitants, but is causing an unexpected effect in the form of the arrival of certain apparently immortal entities associated with the black liquid. The plot is revealed little by little and begins to truly crystallize when we have been there for three hours and an event completely shakes the world. From that moment on, Gunbrella displays one of its greatest virtues, perhaps the most unexpected: the brief plot is as raw and visceral as the shots we hit. The feeling of unease grows minute by minute until it explodes in the final stretch, and this unease is contributed by a soundtrack with garage rhythms that could be part of the sounds of Burial's initial stage, creating a dense and suffocating sound panorama.
Throughout the game a series of decisions are presented that often do not seem like such; If I didn't have Steam achievement notifications turned on, I wouldn't have known that some of my actions were optional. They are small moments in which the game tries to see to what extent we have succumbed to the worst of this world: executing a fallen enemy in cold blood or risking the lives of our few allies may not be as simple decisions as they may seem.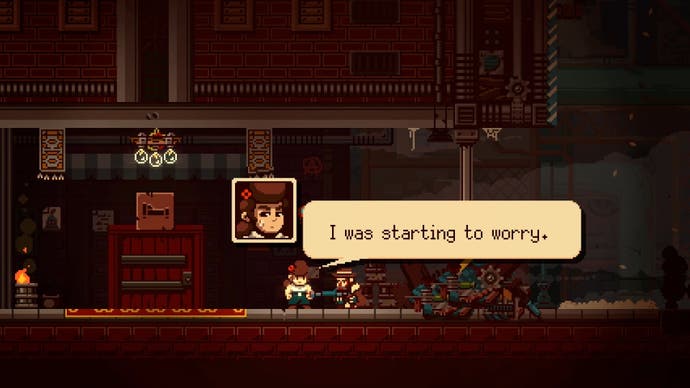 However, the weight of some of these moments is diluted because the platforming, exploration and plot do not end up feeling too cohesive; At times they seem to come from different games and intertwine casually. This ends up weighing down the section in which it falters the most: the pace of the adventure. The action and jumping phases had the potential to further exploit the possibilities of the umbrella, while the adventure parts are characterized by unnecessary backtracking, since enemies do not respawn (with certain exceptions) and we often walk through empty wastelands.
Despite being a slightly longer game than his Gato Roboto, it feels shorter in its aims; Neither the plot nor the mechanics display all their possibilities. His metroidvania was compact and measured to the millimeter, while Gunbrella presents clear ups and downs of interest. The exploration part in particular seems overlong, while in the purely mechanical part there is the thorn in the side that the main weapon of the game had potential for more imaginative sections.
Gunbrella mixes bits of platforming and exploration with uneven results due to uneven pacing. Its raw atmosphere, enhanced by a couple of particularly agonizing script twists, is somewhat blurred between the action parts and secondary parts that do not fully enhance its best qualities. It's not even remotely a bad game, but it struggles to generate enthusiasm; It has moments that individually may be notable, but are bogged down by many others that are simply forgettable.