Super Mario Bros. Wonder once again renews the classic Nintendo platform formula, giving it a brilliant design with a capacity for surprise and unusual fun.
We have talked to you on many occasions about embargoes, those agreements that the media must sign with video game publishers to have access to their titles before the official launch and to be able to write reviews like this one. You know that in them the fundamental commitment is a date from which the articles can be published, but also that in many cases there are specific conditions to avoid talking about certain aspects of the story and thus protect the end user from the feared spoilers.
This is not the case with Super Mario Bros. Wonder, if I'm honest, because its plot – Bowser steals a magical object, threatens peace in a peaceful kingdom and the mission of Mario and company is to thwart his dire plans – can be written on a paper napkin and we would have plenty of space. There's not much spoiler to do, in that regard. In the case of Wonder, in reality, the conditions are much more severe and extensive, because what Nintendo wants to protect – and I think it is a necessary exercise of responsibility and constraint that we journalists also do – is the new Mario's ability to surprise when playing each level. In each and every one of them.
The feeling I have had these days playing it has been, and I think this describes very well what you should expect from it, the same one I had in 2010 with Super Mario Galaxy 2: that of finding myself in front of a work with an immaculate and imperishable design, facing a game that works in its entirety with the precision of a Swiss watch without this diminishing its ability to constantly surprise. One that brims with ideas everywhere, and behind which there is a team of designers at their most inspired, having fun exploring possibilities and polishing them to perfection, making a formula that is almost forty years old behind them feel so fresh and innovative. Like the first day.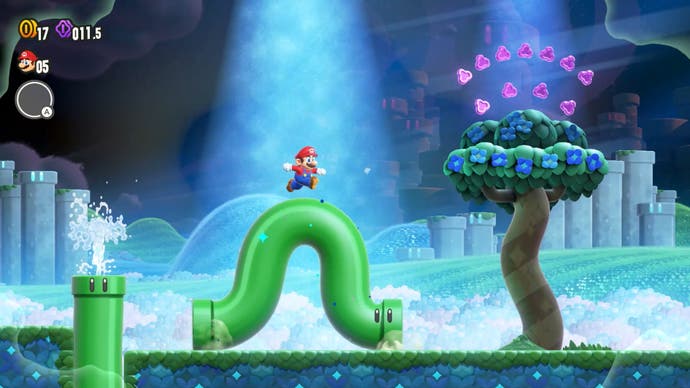 On this occasion, the main gimmick around which this whole torrent of imagination revolves is that wonder flower that you have already seen in some trailers or in the Direct that Nintendo dedicated to the game a few weeks ago. Placed on each screen, sometimes in obvious places and other times more hidden, the objective is to touch it to activate it. At that moment, madness breaks out, and the levels, the enemies or the protagonists themselves undergo some type of transformation that completely alters the development of the phase, whether with meteor showers, pipes that come to life or musical numbers, to name a few. examples. The fascinating thing is that the effect of the wonder flower is different in each level, and just when you think you've seen it all, the game surprises you again. One more time.
It is also commendable that the gimmick never engulfs Wonder's own level design, which I am happy to say is one of Nintendo's most inspired in recent years. A double milestone, too, if we take into account that all levels can be completed with or without the effect of the wonder flower, which translates into a true two for one and one of those games in which it is really justified to play two times each screen (which, before you ask, is not at all mandatory at any time). And, obviously, there are also new power-ups, such as the elephant, the drill or the bubble, which join the usual ones from the franchise and give the characters new and fun possibilities.
As if that weren't enough, Super Mario Bros. Wonder allows itself the luxury of adding another ingredient to the formula: badges. These items, which can be active or passive, are unlocked as we progress in the adventure or are purchased in Poplin's store, being able to equip a badge at the beginning of each level to modify some of our movements or stage objects such as blocks. It is one more element of surprise, a type of optional item that helps emphasize replayability and that further highlights the great objective that the developers have set, which is to encourage the exploration of the levels.
It is for this last reason that Wonder eliminates something that until now was a watchword in 2D Marios: the timer. Except in certain conditions and in some specific levels, for reasons that we will not explain so as not to spoil the surprise, there is no time limit to overcome the phases, encouraging us to explore all the nooks and crannies in search of collectibles and secrets, which, believe me, there are a handful in each of them. One way to balance the playing field, smart although it may be shocking, is to make all the characters have the same abilities and that there are no differences, for example, in the height of their jumps. Mario, Luigi, Peach, Daisy, the Toads and Toadette are controlled exactly the same, and only the Yoshis and Caco Gazapo vary in that sense by not receiving damage from enemies, becoming de facto the "easy" mode for the most little ones in the house.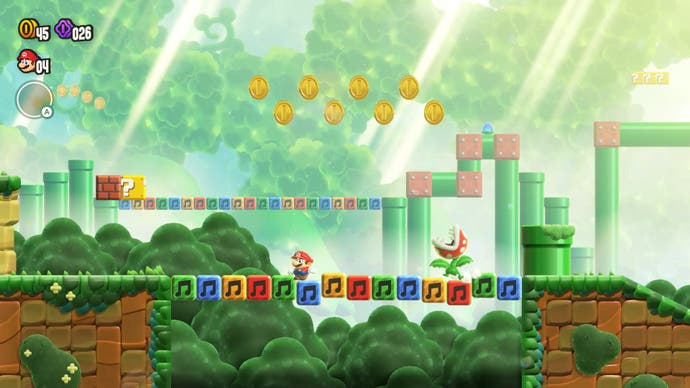 Like the latest 2D Marios, Wonder also incorporates a multiplayer mode as one of its great attractions. The traditional local mode for four players is still present and in full form, also adding an online one in which races can also be developed against other players. In the online it is interesting the use of silhouettes, objects that we can place on the stage to warn of dangers (a bit like in Dark Souls, come on) or use those of other users to revive. Multiplayer has never been the main attraction of a Mario and I don't think it ever will be, but even so it is a very fun and well thought out addition here, which generates extremely fun situations and moments to enjoy with family or friends.
Although I believe that what will last a long time about Wonder in the collective memory is the impact of its playable design, it cannot be said, far from it, that the visual section has been neglected. Quite the opposite, in fact: Super Mario Bros. Wonder is one of the most beautiful Mario that I remember, with very careful animations in which we have sought – and managed – to significantly expand the expressiveness of the characters. It is a game that, without being – apparently – a technical prodigy, makes great use of the Switch hardware. The musical accompaniment is also at an excellent level, with some memorable songs, but in the sound section we find one of the most important changes that the franchise has undergone in its entire history: a new voice actor for Mario and Luigi. In the end, and I think this will reassure many, the change is not that big: the new voices (although by listening they sound somewhat different) are tremendously faithful to the style, tone and timbre to which the great Charles Martinet had accustomed us.
I don't know if I'm the only one who thought that with the New Super Mario Bros. Nintendo seemed to have relegated the classic side-scrolling Mario to a more secondary role in pursuit of titles like Super Mario Galaxy or Super Mario Odyssey, which concentrated a greater effort creative, but Wonder has radically changed my opinion on the matter. The new Mario is one of those chosen ones that perfectly demonstrate that Nintendo has something different from the rest of the developers, a talent, an imagination and an attention to detail unparalleled within the industry. Super Mario Bros. Wonder is a masterful platformer, one of the best video games not of 2023, but of the last five years, and an essential title for any Nintendo Switch user, with an unmatched capacity for surprise and fun. A marvel, in short.