After moving away from the world of reality shows, Angie Arizaga She became a successful influencer on her social networks. Together with her boyfriend, Jota Benz, she creates content on platforms like Instagram and gets thousands of likes by showing what her day-to-day is like or by following different trends. For this reason, as a result of her work, they managed to win in the category of best couple at the 2023 Influencer Icon Awards, held in Medellín, Colombia, on June 15.
These awards seek to recognize influencers, internationally, who have had a positive impact on media and digital marketing. This achievement would not have been possible without the support of his fans. Therefore, the couple dedicated a message to them. "We can't believe it. We have been triple awarded thanks to you. This is all thanks to you," Angie said.
YOU CAN SEE: Jota Benz makes a cruel joke to Angie Arizaga for cutting his beard while he was sleeping
What did Angie Arizaga say about a possible Jota Benz ampay?
Angie ArizagaHe spoke about the speculations of an alleged infidelity of Jota Benz. Given this, the Peruvian model spoke about it and clarified that there is trust with her partner. Likewise, the ex-chica reality maintained that she does not believe in the slightest in this type of gossip.
"It is not the first time that these types of comments have come out, that an ampay is going to come out, I do not even turn my eye. Our relationship is based on trust, 100% trust. So, for me it is impossible to believe. Jota is also a super calm person, I don't have to mistrust him, let alone pay attention to comments made by bad people. I don't post one day with him and they say: 'They already had a fight.' They would like that, but the truth is that they don't," he said. Arizaga for "+ Shows".
YOU CAN SEE: Nicola makes mea culpa after verbally assaulting Angie: "I regret not having cut off the relationship"
Do Angie Arizaga and Jota Benz have a new house?
Angie Arizaga and Jota Benz think about their future and are building their country house in the city of Tarapoto. Through Instagram, the former reality girl talked about her plans with Gino Assereto's brother. "Incredible. Always thinking about the future, we are concluding some projects here," she said in response to her fans.
"We love it. That's why we are in the last steps to have our country house. Little by little we will show them," he added.
Angie Arizaga and Jota Benz build their country house. Photo: Composition/LR
Does Nicola Porcella regret her relationship with Angie Arizaga?
Long before meeting Jota Benz, the ex-reality girl lived one of the most controversial romances in show business with Nicola Porcella. Both accused of physical and psychological violence. Almost a decade later, the 'Historical Captain' reflected on that stage on the "Com FM" podcast.
"I regret not having had my feet on the ground at some point (…),I regret not having cut off a relationship at the time because I think we both forced something that was no longer goingand I think that made us like this, so yes, if you make me go back in time, I would cut a lot of things," Porcella said.
Do Angie Arizaga and Jota Benz have marriage plans?
Angie Arizaga and Jota Benz have become one of the most stable couples in show business, which is why various media asked her if they already have marriage plans. "I know the time will come and it will be spectacular," the influencer told Trome. While Gino Assereto's brother specified that it will be "total madness, a giant movie."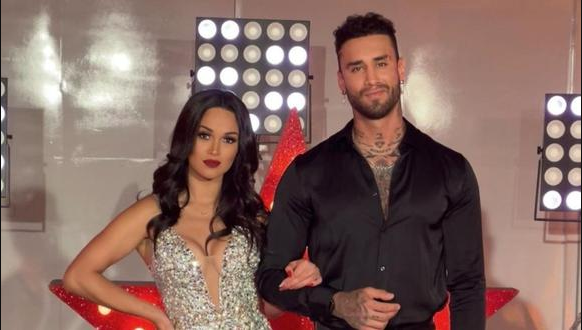 Jota Benz and Angie Arizaga. Photo: Instagram
What did Angie Arizaga give Jota Benz for his 30th birthday?
The popular "Negrita" Angie Arizaga revealed in "En boca de todos" that she decided to give Jota Benz a trip to Colombia for her 30th birthday. "We have to take advantage now that we don't have children," she said.