Last night, a few hundred asylum seekers again slept outside the application center in Ter Apel. The COA (Central Agency for the Reception of Asylum Seekers) assumes that there are about 300; slightly more than the 250 asylum seekers who were outside the night before.
Although several hundred asylum seekers had been taken to other locations by bus for the night from Friday to Saturday, about 200 returned to Ter Apel yesterday morning because their reception place was for only one night. According to Doctors Without Borders (AzG), this created a 'chaotic situation' around the application centre.
In the course of the evening it became clear that there is no place for 300 people tonight. At the end of the afternoon, a group of 70 asylum seekers was taken by bus to Vlissingen, where they were received in the naval barracks. Within the application center 80 new places have been created, which have been filled with people from outside during the day. 85 vulnerable people who stayed in the sports hall are allowed to go to Stadskanaal for one night.
It is still unclear where they can go from today. According to a COA spokesperson, they should return to Ter Apel, where they first have to wait outside on the site. Then they get a residential unit or they go by bus to another location.
There are also 350 minor asylum seekers without parents inside and in other places in Ter Apel. The COA confirms this after reports from NRC and Dagblad van het Noorden. That is much more than the 55 that there is actually room for. Some space has been found, but about fifty of them have to spend the night on chairs or on the floor.
Alarm
The Health and Youth Care Inspectorate (IGJ) sounded the alarm on Friday with health minister Ernst Kuipers and the chairman of the Groningen Security Region Koen Schuiling about the health situation on the grounds of the application center in ter Apel. On Friday evening, buses transported about 390 asylum seekers to emergency reception locations in Stadskanaal, Zuidbroek, Almere, Groningen and Utrecht.
But because many reception locations were only for one night, about 200 asylum seekers returned yesterday. "It has not become any cleaner outside the gates and the situation is chaotic," said MSF. During the day, the COA was busy with extra facilities, for example more dixis.
showered
The returned asylum seekers feel more comfortable now that they have showered and eaten, but they are also worried. The MSF team treated 44 people on Saturday, which, according to the spokeswoman, is 'quite a lot'. One person was taken to hospital by ambulance with heart problems. Someone also had a foot wound that had to be stitched up. On Sunday, the aid workers from Doctors Without Borders will be present again.
Text continues below the photo.
Alarm about health situation
According to a spokesperson for the Council for Refugees, many asylum seekers were 'afraid to get on a bus' on Friday evening for fear that their asylum application would be processed later.
At least fifty asylum seekers were taken to Almere, a hundred to Utrecht. The latter municipality received the evacuees in the Jaarbeurs. Today they were housed in a different location in the city or region, mayor Sharon Dijksma, chairman of the Utrecht Security Region, reported. In order to help resolve the 'distressing and acute situation', the municipality of Utrecht will soon send its own people to Ter Apel to help. This includes crisis managers and other auxiliary troops who will support the registration and reception of people as quickly and smoothly as possible.
Hotel Zwolle
As a result of the reception problems, Hotel Lumen in Zwolle will make 35 rooms available for a maximum of seventy asylum seekers from Sunday evening. This concerns emergency shelter for a week, the municipality of Zwolle reports in a statement on Saturday. 'We are very grateful to Hotel Lumen that they were able to switch so quickly and that the first asylum seekers can already be received on Sunday evening', writes Mayor Peter Snijders.
State Secretary Eric van den Burg (Justice and Security) asked him 'urgently' to arrange extra emergency shelter on Friday evening. The hotel also opened its doors to asylum seekers in mid-July. 'Because the previous experiences were positive, the reception could be arranged very quickly this time. Surrounding companies have now also been informed about this temporary measure', according to the municipality.
Inspectors already in Ter Apel
The Dutch Council for Refugees calls the cry for help from the Health and Youth Care Inspectorate 'not surprising' and does not understand why the signal did not come earlier. "It has been like this for weeks, maybe months," said chairman of the board Frank Candel on Saturday morning in the NOS Radio 1 Journaal. "I'm there with some regularity and it's just dirty, dirty and irresponsible."
According to him, the IGJ was already in Ter Apel before and he does not understand why it is only now intervening. A spokesperson for the Health and Youth Care Inspectorate confirmed to the news channel that inspectors had previously visited the application center.
Theo Weterings, portfolio holder Asylum at the Association of Dutch Municipalities, said in the broadcast that he could understand the position of the Council for Refugees 'very well'. "The situation had certainly been bad for weeks. This has also been stated several times from the Groningen Safety Region and by the municipality of Westerwolde."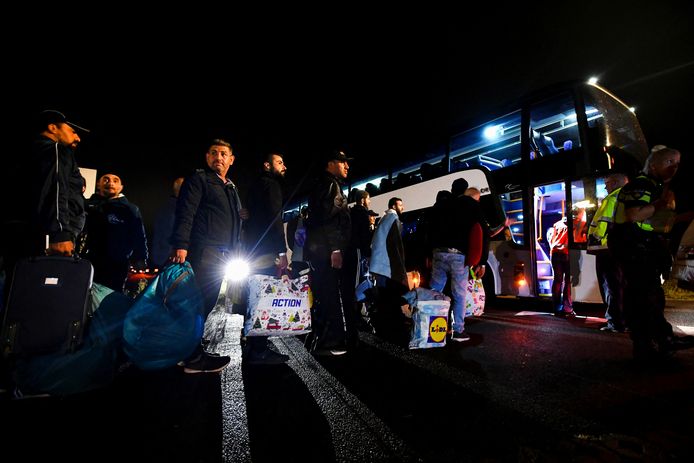 Watch our videos about the problems among asylum seekers in the Netherlands:
react can be found at the bottom of this article. Only comments with a full name will be posted. We do that because we want a debate with people who stand for what they say, and who put their name on it. If you still need to enter your name, you can do so by clicking 'Login' at the top right of our site.
Free unlimited access to Showbytes? Which can!
Log in or create an account and don't miss out on any of the stars.

Yes, I want free unlimited access