In Bangladesh Anti-Hindu sentiment Growing up is a dangerous trend. From now on Bangladesh Without calling Jihadism The Bengali writer that should be called Taslima Nasrin Has satiated.
Writer Taslima Nasrin He has been seeking asylum in India since 1992. There was strong opposition to his book Lajja. Death threats were made. Subsequently, he stayed in India without returning to his homeland.
In this context, Hindus were recently attacked during the Durga Puja in Gomila, Bangladesh. The temples were smashed. Many were killed in the riots. The riot spread to several districts.
Writer on this attack on Hindus Taslima Nasrin Condemned.
He said in an interview:
"I do not really want to be called Bangladesh. Now that country has become jihadist. All governments, even the current ruling government, use religion for politics. They have made Islam the official religion of the state. Hindus and Buddhists have been converted into third-class citizens and are being held captive.
Attacks on Hindus are likely to take place every year during Durga Puja. This is well known to Sheikh Hasina. Why not strengthen security, why not provide security to Hindu temples?
A large number of Hindus have left Bangladesh. The government should provide security for the existing people. Anti-Hindu sentiment Growing up in Bangladesh is dangerous. Bangladesh When separated alone, 30 per cent were Hindus. They are currently down 9 percent.
I wrote the novel Lajja in 1993 about the Hindu family being attacked by Muslim fundamentalists. It was banned. This is why I left the country. It does not stand still. Similar incidents continue to occur.
Hindus are persecuted and intimidated by Muslims. This has been going on for years. The Muslims want the Hindus to leave the country and they want to capture that place.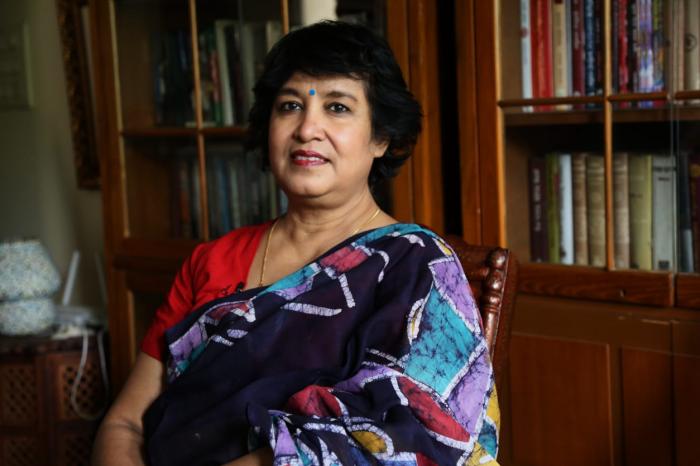 Numerous mosques and madrassas have been built unnecessarily in Bangladesh. This is where young people are brainwashed. Preachers in madrassas in remote villages speak what comes to their minds in the name of Islam.
They mislead the uneducated youth and they do not even know Arabic. Riots happen whenever rumors spread.
Secularism should be encouraged. Government and religion definitely need a break. Muslims alone should not be blamed for the demolition of Hindu shops, houses and temples. The government created opportunities and facilities for that. It's all vote bank politics. "
Thus Taslima Nasrin Said.
.