Srinagar: Is the environment conducive for Kashmir Pandits to prepare for another major relocation (mass migration)? That is how some forums are being set up. The reason is the struggles of Kashmiri Pandits on the streets for the last few days demanding their lives.
The planned massacre, which began on May 1, has forced Kashmiri Pandits to take to the streets. Will you guarantee our lives? They are struggling with questions.
Kashmiri Pandits in the Shakbora camps in Hall and Putkam districts of Pulwama district take to the streets every day to demand protection for their lives. Amit Kaul, 40, is a government employee. As he says, I have already left the camp. I will be going to Jammu soon. Others said barricades had been set up to prevent them from leaving the camps.
From the root .. If we look for the root of the tension of having to leave immediately it will take us back to the early 1980s. It was then that extremist organizations such as Hizbul Mujahideen and Lashkar-e-Taiba began to incense separatist groups in Kashmir. Maqbool Pattu, leader of the Jammu and Kashmir Liberation Movement (JKLF), was executed in 1984. History has shown that this was the reason why extremist organizations put more incense to separatists.
In addition, religious violence was a daily occurrence in 1986 in Anantnag district of Kashmir. Crowds of Kashmir Muslim youth were brainwashed and recruited into extremist movements. They were taught that Hindu temples and Hindu homes were the first target.
Election that poured oil on the burning fire: Elections to the Jammu and Kashmir Legislative Assembly were held in 1987. In the middle was the Rajiv-led Congress government. (That rule lasted from 1984 to 1989). That government planned to make Farooq Abdullah the chief minister again in Kashmir. It did accomplish. This angered local separatist forces.
The regime change took place in mid-December 1989. In the same month, the Jammu and Kashmir Liberation Movement abducted Rubaya Saeed, the daughter of Mufti Saeed, the then Home Minister. Five JKLF soldiers were released from prison to recover the rupee. This is the biggest victory of the separatists. The same year a judge named Neelakant Kanju was killed. He was the one who sentenced Maqbool Pattu to death.
The Hizbul organization religiously painted the struggle of Kashmir separatists. Religious fanaticism began to sound along with Azadi's voice. Printed and published as the hit list of Kashmir Pandits.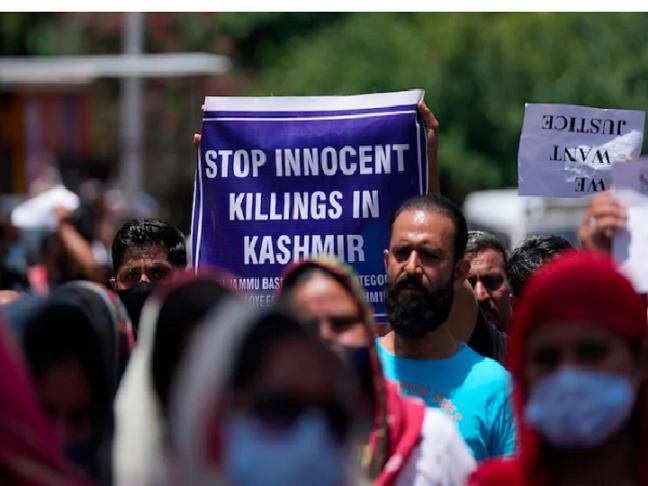 Following the abductions and assassinations, on January 19, 1990, the then Prime Minister VP Singh instituted a central government in Jammu. Jagmohan was made governor. State Chief Minister Farooq Abdullah resigned in protest. Political discontent turned into turmoil.
Pandits were targeted. Kashmir Pandit community women were raped. 75,343 Kashmiri Pandits left in a single week beginning 20 Jan 1990. In March 1990, another 70,000 left. 650 people were killed. These figures have been confirmed by the Kashmir Pandit Sankarsh Samiti. A total of 1.5 lakh pundits left during that period.
In April 1990, the Pandits received public threats to leave Kashmir or be killed. But at the same time, there is no denying that some Kashmiri Muslims also defended the Hindus. Similarly, on January 21, 1990, the Muslims of Kashmir came under heavy attack. The CRPF opened fire on civilians on the Kavkadal Bridge in Srinagar two days after Jakmohan was appointed governor. More than 50 Muslims were killed. He (Jakmohan) joined the BJP in 1994. Private pages of history show that in 1990 he was criticized for doing nothing to protect Kashmiri Pandits.
The Pandits who left Kashmir were lodged in camps in Jammu and Delhi. Their legitimate demands to return to their native soil from the suffocating camps have not been fully resolved. In January 1990, 1.5 lakh Hindus left Jammu and Kashmir. They left their lands, houses and possessions and left with only their lives in their hands.
Now their fear is whether the 1990s will return.
The reason is recent events. In the same month in October last year 7 innocent civilians were killed. The killings took place 5 days apart. Now this year the massacre has started again. Eight people have been killed since May 1. Mostly Hindus, including expatriates.
Are Kashmir Pandits preparing for another major relocation ?! The question arises.
Gallery: Bharathi Anand
.