That the lords had earlier neglected the development of the northeastern states of Assam after independence Congress On the party Prime Minister Modi Accused.
Assam is scheduled to hold general elections in April and May. The BJP is actively moving pieces to retain power again in this election.
In order to initiate various development projects in this situation Prime Minister Modi Today State of Assam Had gone. For the 3rd time in the last one month Prime Minister Modi State of Assam Went. 3 petroleum projects developed at a cost of Rs. 3,222 crore Prime Minister Modi Dedicated to the country.
This is followed by the Rs 45 crore Temaji Engineering College in Temaji and the Rs 55 crore Salkuchi Engineering College. Prime Minister Modi Laid the foundation.
Earlier, he had arrived in Assam on the 7th Prime Minister Modi He dedicated Rs 9,310 crore worth of infrastructure projects to the country. Laid the foundation for various projects. Modi, who arrived for the second time on the 18th, announced Rs 10,000 crore development projects.
Then at a public meeting in the city Prime Minister Modi Spoken by:
"After independence, the previous rulers ignored the development of Assam and the development of the north-eastern states. Earlier the lords believed that there was a long distance between Delhi and Thispur.
But now Delhi is not far away. Has come to your doorstep.
Those who ruled before this approached with a stepmotherly attitude. They have neglected to go to the Northeast region for health, education and career development.
The state of Assam and the north-eastern states are the engines for the new development of this nation. More than 20 engineering colleges have been established in Assam through a series of initiatives.
By teaching children in local languages, even children from poor families can rise to become doctors and engineers.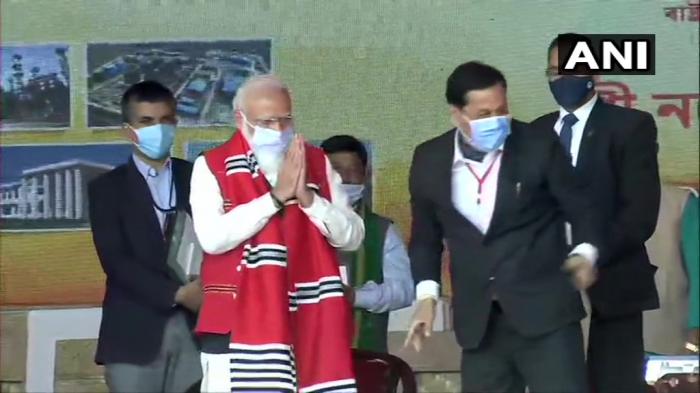 Assam is rich in crude oil. But until 2014, only 40 percent of households here had a cooking gas connection. But, all the people in the state are connected to the cooking gas through the Ujwala scheme of the Central Government. One crore women have benefited.
Gas, fiberglass cable, drinking water facility etc. have been created for the people in the pipeline. Life in Assam will be much easier with the improvement of energy and infrastructure. Employment will be created for the people and youth of the North East.
The state of Assam is world famous for its tea, tourism, handlooms and handicrafts. With the progress brought in this sector, employment will increase. It will strengthen the independent India movement. "
Thus Prime Minister Modi Said.
.