Published: 25 Dec 2021 07:15 am
Updated: 25 Dec 2021 07:15 am
Published: 25 Dec 2021 07:15 AM
Last Updated: 25 Dec 2021 07:15 AM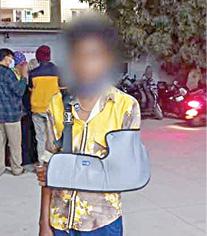 Bangalore: Kamarajar High School of the Bangalore Tamil Sangam is functioning at Kadukondanahalli in Bangalore. This is a Tamil medium school mostly attended by the children of poor workers from Tamil Nadu.
In this context, the last few days the headmaster of the school has asked Dalit students including Rajeshwari Raghu (name has been changed) to clean the toilet. Anu was admitted to the government hospital following a fracture in her arm after hitting Raghu who refused to do so.
Following this, the parents of the student lodged a complaint against the headmaster Rajeswari and employee Murthy at the Kadukondanahalli police station. The police have registered a case against the two under sections 34,323,324 of the Indian Penal Code and the Juvenile Justice (Child Care and Protection) Act. Police are searching for the two missing persons.
.