Bengaluru: While the entire city of Bengaluru has been severely affected by the rains and floods, Chief Minister Basavaraj Bombay has alleged that the "administrative failure of the previous Congress regime is the reason for the water logging on the roads". "However, in the face of all the challenges, my government is working briskly to bring the city back from the deluge," he said.
Chief Minister Boyam further said, "Karnataka will receive southwest monsoon from June to September. This time, houses and institutions have been flooded due to the unexpected heavy rains that have poured down in the last 2 days. Karnataka, especially Bengaluru, has never received such an unexpected amount of heavy rain.
It has rained the most in the last 90 years. Lakes and ponds are overflowing. Some lakes have broken and water has entered the town. It is still raining continuously in Bengaluru. There are reports that the entire city of Bengaluru has come to a standstill. But, that is not true. Only a few areas are severely affected. To be specific, the low-lying Mahadevapura region has been severely affected. There are only 69 ponds there. Many of them are broken. Some overflow. In some places water has entered the town due to encroachments.
The government has faced these challenges. Engineers, state disaster recovery team and others have been carrying out rescue operations round the clock. We have removed a lot of encroachments and repaired the waterways. I have ordered the emergency control room to be activated 24 hours a day," he said.
Also, "The previous Congress regime has given building permits everywhere in the city. Occupied buildings have increased. These encroachment buildings are the main cause of the present misery. Encroachment is high in lakeside areas. The earlier rulers did not clean and maintain the lakes. They have given permission for buildings even without looking at the mouth of the lake. I have now taken up the rainwater drainage work. I have earmarked Rs.1500 crore for rainwater drainage. 300 crores have been released in a single day yesterday. Due to this, the rainwater goes to the lakes and ponds without hindrance.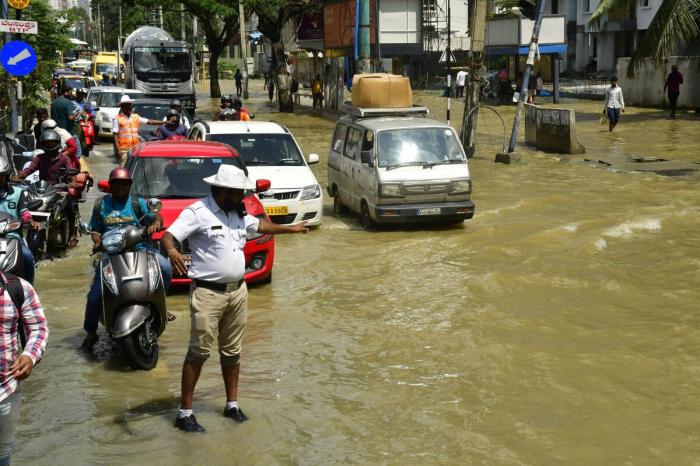 Renovation of DK Halli water station in Mandya district to ensure supply of drinking water to Bengaluru city is also underway. But two full days are required to complete the work. Until then, we are making alternative arrangements to meet the drinking water needs of the people of Bengaluru. There are 8000 borewells around the city. Actions have been taken to distribute water through them," he said.