Bengaluru: Bengaluru city is flooded due to unprecedented rains. Bengaluru residents are saddened by the announcement that the rain will continue even though the stagnant rain water has not yet drained away due to the heavy rains from last Sunday night to Tuesday night.
However, as the flood waters receded significantly in various parts of Bengaluru this morning, traffic has returned to normal in a few areas. However, the announcement that the rains will continue has left Bengaluru residents sad.
Karnataka Minister CN Aswathnarayanan will today hold a consultation with IT companies regarding the crisis caused by the unexpected flash floods. Known as the IT hub of India, Bengaluru is home to many large companies. In this case, the IT industry has come to a standstill as the city has been stalled by rain and floods for two days.
Even though some companies have allowed employees to work from home, IT companies have reported that work has been disrupted due to internet shutdowns and power outages. In this case, representatives of companies such as Wipro, Infosys, Nasscom, Goldman Sachs, Intel, Tata Consultancy Services, Philips will participate in the consultation meeting led by the Minister and in the presence of the Chief Secretary.
Status of Rescue Operations: Power outages in various parts of Bengaluru are yet to be repaired. Electricity supply has been banned as a precautionary measure, especially in flood-prone areas. A school employee who was returning home from work yesterday was electrocuted and died. The 23-year-old woman, who was riding a two-wheeler on a water-logged road, died miserably by holding on to an electric pole to avoid falling down.
Due to lack of electricity supply of drinking water is prohibited in some places and the Corporation is supplying drinking water in some areas by using borewell machines. Water supply is also done by tankers.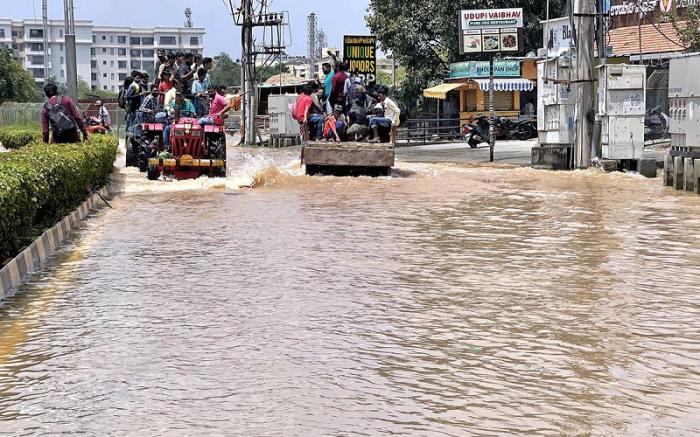 Plunder Profits: Meanwhile, there have been complaints that the IT company in Bengaluru has been charging huge rents in hostels located around the areas where the super rich live. A family of 4 was charged Rs 42,000 for a one-night stay at a hostel on Airport Road. Similarly, more elderly people are admitted to hospitals. They are more admitted for high blood pressure and diabetes problems.