Cricket is the favorite sport of Indian youth. Cricket reminds me of Sachin, Dhoni and Virat Kohli. Julan Goswami is one of the most admired figures in Indian women's cricket. Name of Julan who has made a separate history in Indian women's cricket Anushka Sharma 'Sakta Express' starring is being re-pronounced by the film.
Who is Julan Goswami?
Saktaha (Saktaha) is the most backward city in West Bengal. Reaching the pinnacle in the world of female cricket growing up in this city is not so easy. Julen was born into a simple home in Shaktaha and made it possible. Those with a simple family background below the middle class tend to think more about women's education and marriage than Julen's home game.
In West Bengal, which followed the Communists, football was the most popular sport. Football is Julen's favorite sport. Thus, until the age of 15, Julen did not have a great idea about cricket. An accident caused him to move towards the world of cricket. The event took him on a journey towards his dream of becoming a cricketer.
The event was the final of the 1997 Women's World Cup at Eden Gardens, Kolkata, India's most famous cricket ground. In the 1997 Women's World Cup final between Australia and New Zealand at Eden Gardens, Julen worked as a ball-bearer at the boundaries.
That day, after seeing other country female players on the field, he decided that the next moment he too should become a cricket player. Although Julen dreamed of cricket at the age of 15, she faced many challenges to make it possible. Usually at the age of 15, many people step into the journey of becoming a professional cricketer.
The work that made Julen turn into a professional cricketer more than anyone else is astonishing. The backward city of Saktaha has no facilities for cricket training. Cricket training can only be held on that day in Kolkata, which is 80 km away from Saktaha.
This 80km run towards a sport that was not much noticed by women during that period. Julen dared to cross the distance every day. The Shaktaha-Howrah train, which leaves at 4.30 am, is the only train that can go to training on time. Swapan Sadhu was the most popular coach in Kolkata at that time. It was from him that Julen learned the ins and outs of cricket.
Coach Swapan Sadhu is very strict. To any extent, even if he is a minute late for training, he will be strict enough to return to the same train that arrived in July.
Julen's dream of not being able to catch the train many times and try to break his morale every time his villagers and relatives try to dissuade him. Why his parents repeatedly forced him to leave cricket and continue his studies when he could not catch the train. Julen did not budge.
He worked day and night to become a cricketer. Julen's hard work soon began to pay off. In training as a fast bowler, Minnie Julen was first selected in the Bengal squad. After four years of hard work, Julen also made her international debut. His first international match was against England in Chennai in 2002. He was only 19 at the time of this match. In the first match, Julen sowed the seeds of the future of Indian women's cricket.
His life after that is all history. Julen, one of the fastest bowlers in the world of women's cricket, has been instrumental in many of the Indian team's record wins.
Despite being India's runner-up in the 2005 Women's Cricket World Cup and winning the first Test series in 2006, Julen has been a major contributor to the team as an all-rounder. She has also captained the Indian women's team. Despite being known as an all-rounder, he holds the best records as a cracker.
Julen has so far taken 44 wickets in Tests, 240 in ODIs and 56 in T20s. He also became the first bowler in the world to take 200 wickets as a bowler. He has taken five wickets twice in ODIs, five wickets three times in Tests and ten wickets once.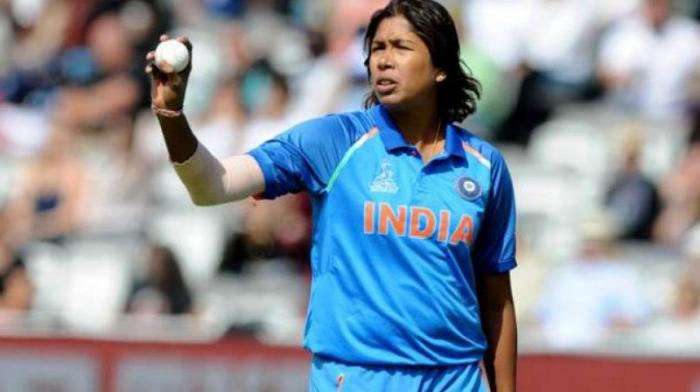 Recipient of the 2007 ICC Player of the Year Award. She is the first Indian woman to receive this award. Julan Goswami has been honored with the Arjuna Award (2010) and the Padma Shri (2012) for his cricketing achievements. Julen is the second female cricketer in the country to receive the Padma Shri award after former best player Diana Edulji.
He has been compared to Australia's Glenn McGrath because of his excellent line and bowling ability. His speed is 120 km / h. It's more in women's cricket. This is why cricket fans call him 'Shakta Express' and 'Bengal Express'. It is currently under this name in Julen's biography Anushka Sharma Is acting.
.