On a BJP MLA in Maloth town in Punjab's Muktsar district Farmers They barraged him and tore his clothes. Unable to withstand the onslaught of the peasants, the MLA took refuge inside the business premises.
Opposing the 3 agricultural laws brought by the Central Government Farmers Have been struggling for the past 120 days. Especially in Punjab Farmers The struggle has been intense. Especially on BJP MLAs Farmers Coming from rage.
Abohar constituency MLA Arun Narang had arranged a press conference in Maloth yesterday. When MLA Arun Narang came to the meeting, there was a protest Farmers They surrounded him and poured black ink on him and the vehicles he came in to protest.
From there, MLA Arun Narang was taken safely to a shop by the police. After a long time, Arun Narang was brought out safely by the police.
The peasants, however, suddenly launched a barrage of attacks on Narang. The MLA's clothes were torn in the attack. Police engaged in security and tried to stop the farmers Farmers MLA Arun could not escape the attack.
After that MLA Aruna police kept her safely inside a shop again with torn clothes. Police were called in and BJP MLA Arun was escorted to another vehicle with security.
Muktsar police have registered a case against 7 persons in connection with the incident. 250 unidentified people were charged with attempted murder, assault, obstruction of a civil servant and rioting.
BJP MLA Arun Narang told reporters, "Surrounding me Farmers Stabbed in my face. They tore my clothes and humiliated me. I had arranged a press conference. For that Farmers Not allowed. "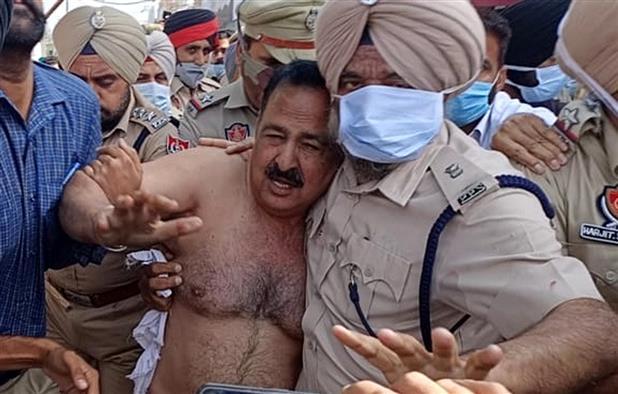 On BJP MLA Arun Narang Farmers To the attack carried out Punjab Chief Minister Amarinder Singh condemned Said. "Anyone who threatens the peace of the state will be severely punished. Violently Farmers Do not engage. Farmers Prime Minister Modi should resolve the issue soon, "said Amarinder Singh.
.