The Sudanese army appeared to be gaining the upper hand in a bloody power struggle with rival Rapid Support Forces (RSF) on Sunday. The paramilitary group and the army accuse each other of starting the hostilities. They claimed at least 83 civilian deaths in two days, including three UN employees, and more than 1,100 injured.
The organization reports that the nine hospitals in the Sudan's capital Khartoum are struggling to provide medical care to all the injured. In addition, they are running out of medical supplies. Infusion fluids, supplies for blood transfusions and other essential supplies, among other things, are running out or running out. And there is not enough donated blood. The power also regularly fails and there is no fuel for the emergency generators. In addition, various specialists such as anesthesiologists are missing.
The army bombed RSF bases under General Mohamed Hamdane Daglo, known as Hemedti, on Sunday. Both he and army chief General Abdel Fattah al-Burhan then agreed to a three-hour "humanitarian pause" proposed by the United Nations. It went into effect at 4 p.m. local time and was intended, among other things, to evacuate the injured. Doctors' unions had previously said it was difficult for medics and the injured to get to and from hospitals, and called on warring parties to ensure safe passage.




The temporary ceasefire and opening of safe roads was not carried out

Ghazi Elrayah, humanitarian activist
While shooting in central Khartoum initially appeared to subside, heavy bombing soon resumed, a Reuters witness said. At nightfall, residents reported heavy artillery fire and the roar of warplanes across the Nile River in Bahri's Kafouri district, where the RSF has a base.
"The temporary ceasefire and the opening of safe roads announced by UNITAMS (UN mission, ed.) was not implemented and neither the International Committee of the Red Cross nor the Sudanese Red Crescent carried out evacuations", said humanitarian activist Ghazi Elrayah. He is preparing the evacuation of people stranded in hospitals and other buildings due to the fighting.
'Hour of victory is near'
According to witnesses and residents in the city center, the army carried out airstrikes on RSF barracks and bases, including in its sister city of Omdurman, on Sunday and succeeded in destroying most of the paramilitary group's facilities. The forces also said they recaptured much of the presidential palace, after both sides claimed control of it, and other key installations in Khartoum. RSF members were still holed up at Khartoum International Airport under military siege. That did not attack the buildings to prevent major damage, witnesses said.
"The hour of victory is at hand," the army said in a statement on Sunday. "We pray for mercy for the innocent lives destroyed by this reckless adventure by the RSF rebels. We shall soon have good news for our patient and proud people, God willing."
Text continues below the photo.
Big problem
According to witnesses and residents, the thousands of heavily armed RSF members in neighborhoods of Khartoum and other cities are a major problem because no authority can control them. "There is so much false information and everyone is lying. We don't know when or how this will end," a young woman named Huda told Reuters.
Tagreed Abdin, an architect in Khartoum, said on Sunday that power was out and people were trying to save phone batteries. "We can hear airstrikes, grenades and gunshots," she said.
Sudanese telecommunications company MTN blocked internet services on orders from the government's telecommunications regulator, two company officials told the news agency. State television stopped broadcasting on Sunday afternoon.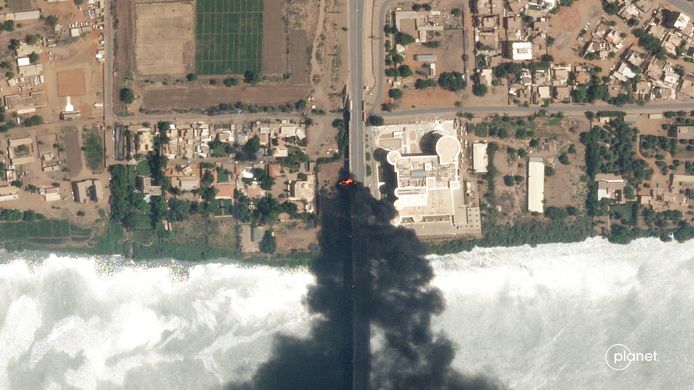 Mediators
Efforts by neighboring countries and regional authorities to end the violence intensified on Sunday. This included an offer from Egypt and South Sudan – independent since July 2011 – to mediate between the fighting parties, Egyptian President Abdul Fatah al-Sisi's office said.
US Secretary of State Antony Blinken said the government in Washington is in talks with Saudi Arabia and the United Arab Emirates. Both countries have great influence on actors in Sudan, especially in the military. They agree that it is now essential that the parties involved "immediately and unconditionally stop fighting," Blinken said.
Integration RSF in army
Fighting broke out on Saturday between army units loyal to General Abdel Fattah al-Burhan, head of the Sudan Sovereign Council, and the paramilitary RSF led by General Mohamed Hamdan Dagalo, deputy head of the council. Both joined forces to oust dictator and army chief Omar al-Bashir with a military coup in 2019, but have since been at odds over the integration of the paramilitary forces into the army. This is part of the transition to a democracy with a civilian government. Disagreement over the timetable for this has delayed the signing of an internationally backed agreement with political parties.
The United States, China, Russia, Egypt, Saudi Arabia, the UN Security Council, the European Union and the African Union have called for a swift end to hostilities that threaten to exacerbate instability in an already unstable, large region.
Watch our news videos in the playlist below:
Free unlimited access to Showbytes? Which can!
Log in or create an account and don't miss a thing of the stars.

Yes, I want free unlimited access