Published: 28 Dec 2021 07:55 am
Updated: 28 Dec 2021 07:55 am
Published: 28 Dec 2021 07:55 AM
Last Updated: 28 Dec 2021 07:55 AM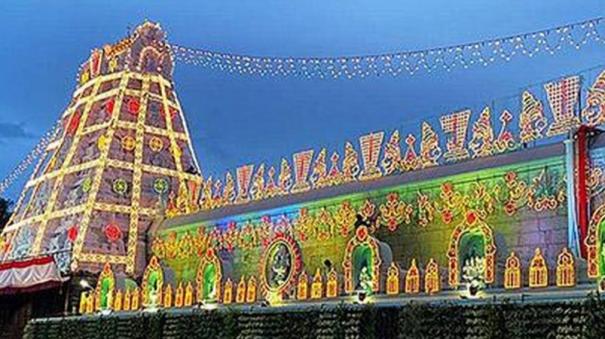 Tirupati:English New Year January To visit Tirupati Ezhumalayana on the 1st of the month, today Tuesday at 9 am 1,000 through the website Break vision tickets Are published.
A ticket costs Rs. 500. Through this the devotees can see the Swami in a light vision (from a distance). Coming up on the 13th ஏழுமலையான் The gates of heaven are to be opened from that day till the 22nd on the occasion of Vaikunda Ekadasi in the temple. Of these, 1,000 tickets for Swami Darshan on Vaikunda Ekadasi and 1,000 tickets per day (Rs. 300) per day from the 14th to the 22nd will be released on the website today. Also, visit Swami Darshan in the month of February. 300 special darshan tickets can be booked.
Devasthanam released 2.60 lakh tickets for 31 days through its website at 9 am yesterday for free darshan (dharma darshan) in the month of January. Devotees have booked all the tickets within 16 minutes of the release of these tickets.
Letters of recommendation
The Thirumalai Tirupati Devasthanam said in a statement issued yesterday evening:
For ordinary devotees January The temple has made some important decisions during the month. Accordingly, January Letters of recommendation for VIP break vision will not be accepted from the 1st and 13th to the 22nd. Swami Darshan arrangements will be made only if the VIPs come directly. Booking rooms are available in Thirumalai January It will not be done from the 11th to the 14th of the month. Arrangements have been made to provide rooms immediately for the ordinary devotees who come in person.
Free meals will be provided from 4 a.m. to 12 p.m. Medical facilities and transport facilities have also been improved. Corona vaccination certification is mandatory. RTPCR certification is required for the absence of corona taken 48 hours prior to vision under 18 years of age. Thus the statement said.
.