update/with videoThe cabinet is working on offering accommodation elsewhere to all people who sleep outside at Ter Apel tomorrow. "We're looking today: where can we put these people so they don't have to sleep outside."

Marcia Nieuwenhuis, Cyril Rosman



Latest update:
17:18


That is what Minister of Justice and Security Dilan Yesilgöz says when leaving the cabinet meeting. According to the VVD minister, 'everything is being done to see where it can be done and who can help us with that' to ensure that no one has to sleep outside anymore. "The State Secretary for Justice and Security is working very hard on it, as well as by many civil servants and municipalities. There are also municipalities that call that indicate maybe it can be done here. Then you also have to look at whether that is possible, how can people be transported there and can that be done in a safe way. That's what we're all working on right now."
Mayor Koen Schuiling of Groningen – who is also from the VVD house and also chairman of the Groningen Security Region – wants no more people to sleep outside at all from tomorrow. About whether it is true that the site at Ter Apel will be cleared tomorrow, the VVD minister acknowledges that she "indeed understood that this was indicated from Groningen". ,,We are looking at each other: what does that mean and what can we do tonight." Yesilgöz also responds affirmatively when asked whether she is involved in arranging bus transport. ,,Yes, you must be able to go somewhere. So we are also looking at who can help with what."
When asked how many people are still sleeping outside tonight, Minister Yesilgöz answers: ,,Of course I hope zero. Nobody wants those images as we have seen them." The Minister of Justice continues: "We are looking today: where can we accommodate these people, so that they do not have to sleep outside. There is a lot of effort going on at the moment."




Today we are looking: where can we put these people so they don't have to sleep outside

Minister Dilan Yesilgöz
A spokesperson for the Groningen Security Region, which Ter Apel falls under, says that "no signals can be seen yet" that the hundreds of people for the registration center have already left this evening. "It would be nice of course and they are working hard on it in The Hague." Schuiling wants the cabinet to have reception locations for unregistered outdoor sleepers by Friday. He believes that if municipalities do not want to cooperate, they must do so under duress, if necessary. He also wants temporary shelter to be built near the application centre. When it is their turn to make an appointment at the application centre, asylum seekers must be taken from that reception to Ter Apel.
Forcing municipalities to receive asylum seekers and status holders is sensitive within the VVD. Many dozens of local factions want municipalities not to be forced to do this, because it already 'squeaks and creaks' there.
Today, MSF-Holland provided care within its own national borders for the first time. The question to the minister is whether that is not a task of the Dutch government: "I am grateful that they are doing it, but you are absolutely right, this should not be necessary."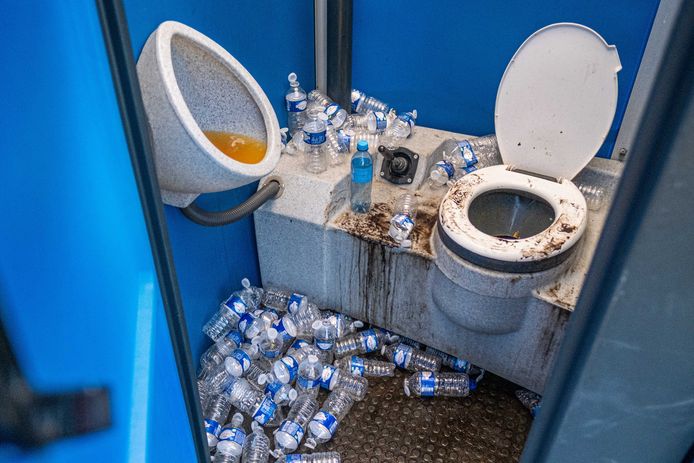 As of today, Doctors Without Borders (AzG) provides medical and psychological care to asylum seekers outside the gate of the application center in Ter Apel. Judith Sargentini, director MSF Netherlands, says that employees of the organization visited the application center and were affected by the living conditions outside the gate. The organization also urgently sent two asylum seekers to the hospital by ambulance.
The fact that MSF has started to provide care to asylum seekers in Ter Apel is 'bad', but also 'good', according to State Secretary Eric van der Burg (VVD). "In that sense, I'm happy with it," he said this morning. After that, there was a torrent of criticism against the secretary of state that it is 'shameful' that this requires an aid organization such as Doctors Without Borders, which is normally mainly active in poor countries. Minister Yesilgöz: ,,I understand that the state secretary says 'I'm happy' that MSF is here, but in a country like the Netherlands you don't want people sleeping on the lawn and that these kinds of scenes are visible. That's not good for anyone. That is why we are also working day and night to see: how can we solve this now.
The minister rejects the current way of reception in Ter Apel. "When we look at the images, we say: this is not the way we want to take care of people." died in Ter Apel, ,,Of course it also touches me as a person. This particular horrific case is now being investigated. We were already doing everything we could to ensure that people can be well received and have a roof over their heads. And we will continue with that."
How great is the chance that it will actually be possible to accommodate everyone, says the Minister of Justice 'sincerely not know'. "This is the acute situation that you are trying to find a solution for."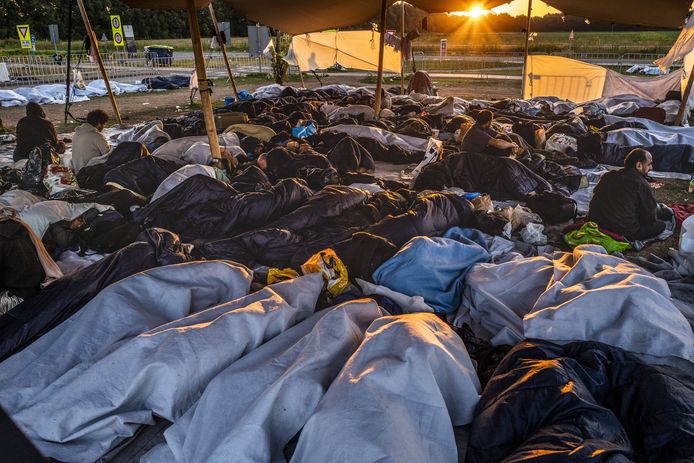 According to aid organization Doctors Without Borders, the 'conditions in which the people at Ter Apel find themselves are inhumane'. Doctors Without Borders has been around for fifty years, but it is the first time that we will offer emergency aid in the Netherlands and we are doing this because the Dutch government is failing so late, says director Sargentini.
Many people are said to be struggling with skin diseases, MSF also warns that some chronically ill patients have run out of medication and are now not receiving new drugs. "If this situation continues, it could lead to serious medical emergencies."
no compulsion
More than seven hundred people slept outside at the registration center last night, a spokesperson for the Central Agency for the Reception of Asylum Seekers (COA) reported. Also in the night from Tuesday to Wednesday, about seven hundred people slept outside.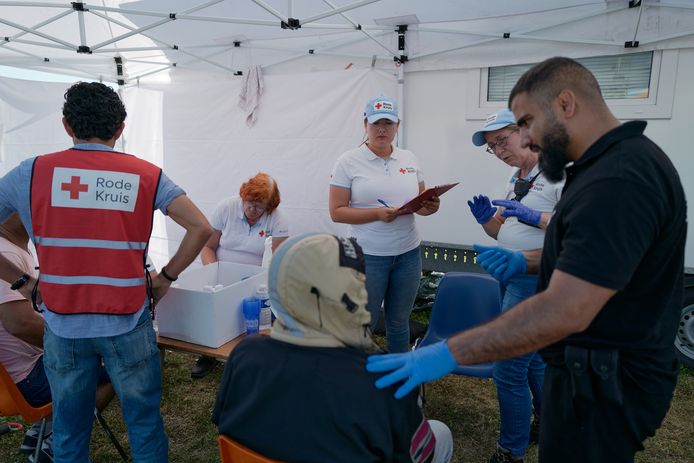 Some say they have been sleeping outside for several weeks. A COA spokeswoman says that this may indeed be the case and that until recently there was accommodation for them, but that many did not take advantage of it because they did not want to miss their turn to talk to the aliens police.
"For about a week there has been a real shortage of shelters and shelter and people are forced to sleep outside," the spokeswoman explains. "We do select as many vulnerable people as possible from the group of waiting, in order to be able to give them the scarce places that are released with the little outflow that there is."
The Red Cross is 'extremely concerned' about the poor facilities outside the application centre. According to the aid organization, there are only a few toilets and there is a shortage of hygiene products.
Extra space
Van der Burg is desperately looking for extra space for asylum seekers. He is discussing this with municipalities, and says he expects there to be news about a new reception location next week. He prefers not to force municipalities. "We get nothing by force."
Justice would also like to put up a tent at the registration center for the people, but the mayor of the municipality that Ter Apel falls under does not want that. Van der Burg says he understands the mayor's position.
The situation in Ter Apel has also led to feverish consultations in The Hague, but nothing has yet been heard of concrete results.
Broadcasters consider action for Ter Apel
A large number of NPO broadcasters are thinking about an action program or a campaign around the asylum crisis in Ter Apel. That is what a spokesperson for the VPRO said. "Many people in Hilversum feel surprise and shame when they see these images," said the spokesman on behalf of the joint broadcasters. "There has been intensive contact since this morning. Everyone wants to do something, we want to try as broadcasters to contribute to the solution of this bizarre problem."
The NPO employees are not yet able to say anything about the form of the campaign: ,,We hope to be able to say more about this early next week. But the will and the energy is there. And we all receive those signals from our supporters and members."
Watch our videos about the asylum crisis in the Netherlands in the playlist below:
Free unlimited access to Showbytes? Which can!
Log in or create an account and never miss a thing from the stars.

Yes, I want free unlimited access