Ansar Faizullah Jalal, a prominent university professor and one of the most vocal critics of the Taliban in Afghanistan, demanded his release after he was arrested last Saturday on charges of inciting the movement.
Jalal's supporters, particularly women's groups, have taken to the streets in Kabul to demand his immediate release, according to the British newspaper, The Guardian.
Human rights groups, including Amnesty International and Human Rights Watch, have also raised concerns about Jalal's arrest.
fake posts
The Taliban detained the Kabul University professor after they claimed responsibility for publishing a series of social media posts attacking them.
The movement's spokesman, Zabihullah Mujahid, accused the university professor through a post on Twitter, in which he said that he was inciting people against the regime, accompanied by screenshots from the publications of an account bearing his name and photo.
Fadlallah Jalal (Tloo News)
On the other hand, Hosni Jalal, the daughter of a university professor, denied the authenticity of the accounts, indicating that they were fake. "We reported the fake accounts to Twitter a week ago, but they took no action," she said. "We have emails to prove it."
Detained in an unknown location
In addition, Hosni, who is currently studying in Europe, revealed that she learned about her father's arrest from social media.
She added that his family does not know where he is being held or how he is doing, noting that the Taliban refused to allow them to speak with him.
Previously imprisoned and tortured
Faydullah Jalal is one of the country's most famous political critics and a longtime activist against authoritarian regimes.
He was arrested in 1978 for his role in protests against the communist coup in Afghanistan and was held and tortured in Pul-e Charkhi Prison also known as the Afghan National Detention Facility, the largest prison in Afghanistan.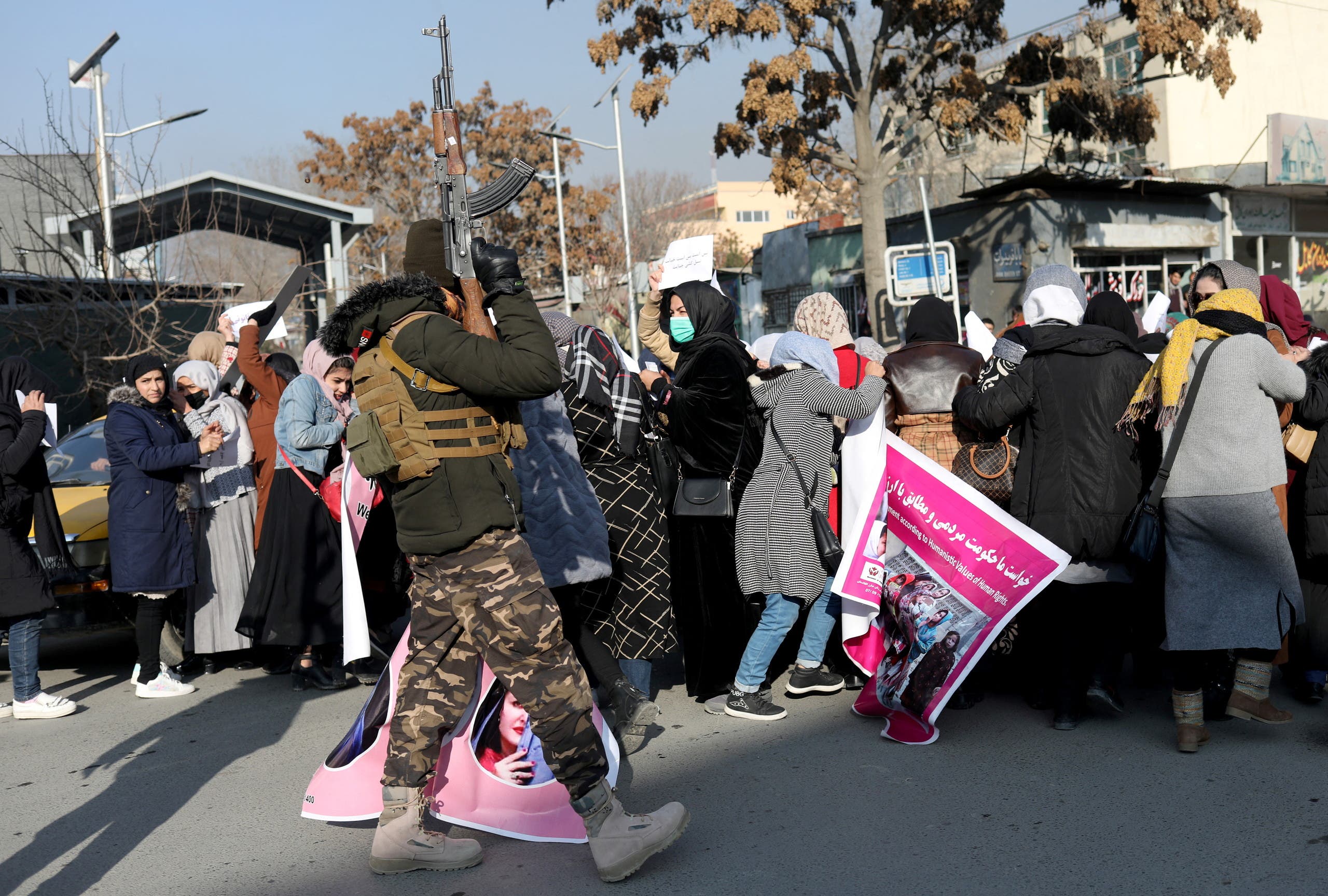 Taliban security attacks a women's demonstration in December 2021 (Reuters)
After his release, he joined Kabul University as a lecturer. In 1993, he was appointed vice president of the university, a position he held until 1996, when the Taliban seized Kabul.
In 2001, after the fall of the Taliban regime, he was appointed Deputy Minister of Education, before returning to academia.
He is married to Masouda Jalal, Afghanistan's first female presidential candidate and a former minister in the now-defunct Ministry of Women's Affairs.