At specific times each year, the "coastal camels" prepare for a fun winter trip amid the waters of the Red Sea. The main task of this trip is to take advantage of the high-quality food ingredients provided by the mangroves that cover large parts of the Red Sea islands.
Hassan Muhammad Al-Hilali, owner of camels famous for going seaside at these times of the year, points out that the meal that camels get from the leaves of the mangrove tree, known locally as "Shura", usually ends with a rest and overnight stay for the herd of camels on the islands as part of the recreation trip that is keen It has coastal camels since ancient times.
He added in his speech to "SPA": "The trip usually begins in the early morning, when the experienced camels advance the crowds, and then they go to the islands near the shore, crossing the sea water without any fear or hesitation, so they spend the whole day enjoying eating the Shura leaves and bathing with water." Then, when evening comes, they gather in one place to sleep on the nearest island until the next morning."
Advantages of coastal camels
Regarding the most prominent features of the "coastal camels" in relation to their living on the sea coast, "Al-Hilali" confirms that they are distinguished by the abundance and quality of milk, in addition to the quality of their meat, especially in times when the "shura" trees are available. It made a great demand for it, as it is one of the high-priced camels.
It is noteworthy that the mangrove tree receives great care from the authorities responsible for the environment and vegetation, as it is one of the trees that enhance the ecosystem in general and the marine in particular. The National Center for the Development of Vegetation Cover and Combating Desertification revealed the planting of more than 14 million shura trees until the end of The year 2020 AD, and work to plant about 100 million trees during the next few years covering the coasts of the Red Sea and the Arabian Gulf, as part of the goals of Vision 2030.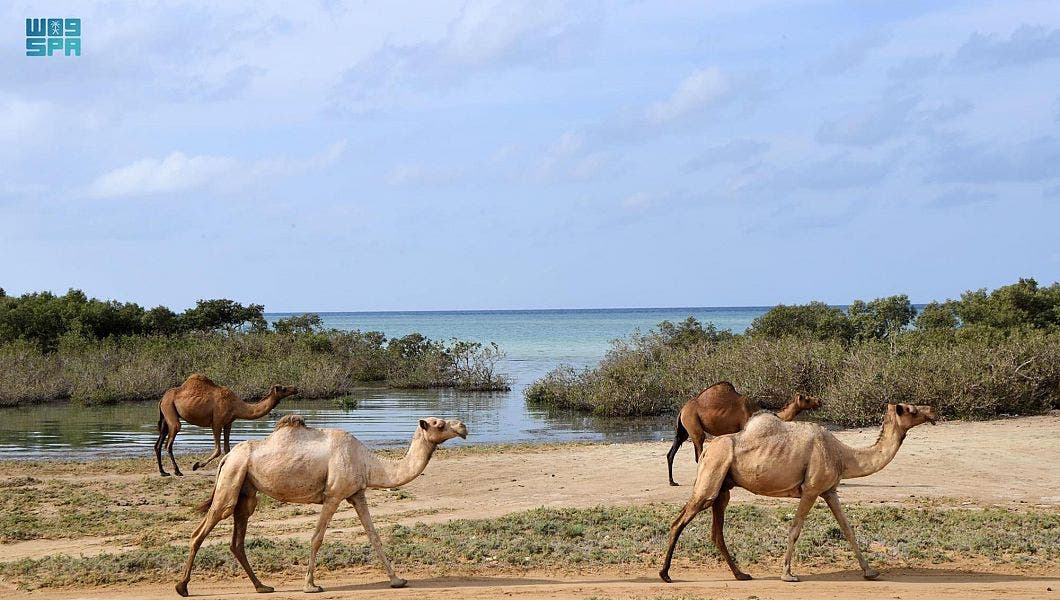 Camels walking in the middle of the Red Sea
Environmental benefits
It is noteworthy that the Shura mangroves have great environmental benefits, the most important of which are protecting coastal soil from erosion, protecting fluids from storms and erosion, and storing blue carbon that reduces climate change, in addition to absorbing pollutants and toxic substances, providing shelter for many birds, fish and marine creatures, and providing food for them.