Highlight:
Petrol scented perfume is for Ford electric vehicle owners.
Seventy percent of those surveyed said the smell of petrol in electric vehicles was a drawback.
Ford Petrol's scented perfume was unveiled at the Auto Carnival Good-Wood Festival of Speed ​​in England.
Rising fuel prices are pushing the average person to the brink. Diesel is in the race to hit a century behind petrol which has crossed Rs 100. In this situation, the question that arises from the common people is, can I still get petrol to get married? That is. In any case, it can be applied on the body and smelled through it.

Can I have some petrol? Don't get me wrong! Ford, the famous automaker, has introduced a perfume that smells of petrol. But this is not to say that petrol is expensive. For their electric vehicle customers. Ford does not have an electric vehicle in India, but not in England. Ford's electric car is sold there under the name Mustang Match-E. Petrol-scented perfume is for them.
What if the space smells like perfume?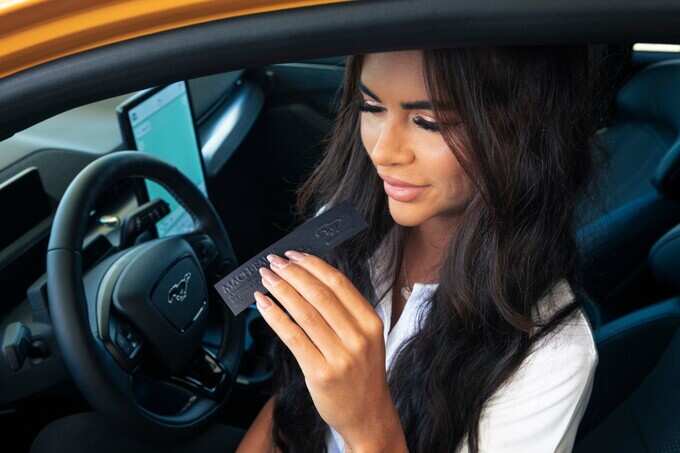 Petrol-scented perfume for electric car owners?
One in five drivers surveyed by Ford says the smell of petrol is what they miss most when switching to an electric vehicle. Seventy percent of people find that the smell of petrol in electric vehicles is a drawback. Interestingly, the smell of petrol was chosen by the people as a favorite flavor over wine and cheese.
What's this for Ford? Leaving India!
With this, Ford decided to make a perfume that smelled of petrol. Ford Petrol-scented perfume is made by renowned perfume consultancy, Olfix. Pia Long, an associate perfumer at the British Society of Perfumers, who worked on creating some of the most famous perfumes, has helped make perfume that smells of petrol.
The first stage was completed by testing the chemicals emitted from the car interior, engines and petrol. The perfume contains almond-like benzaldehyde, which gives car interiors, and paracresol, which is important in creating the rubber scent of tires. The perfume is made from the scent of petrol with ingredients such as ginger, lavender, geranium and sandalwood.

This is where the most expensive French fries in the world are sold
Ford Petrol Scented Perfume was unveiled at the recent Carnival Good-Wood Festival of Speed ​​in England. At the same time, Ford has not revealed whether the perfume will be available in the market.
.