Highlights:
Ravi Teja Birthday Special
Ravi Teja is busy with a series of films
Ravi Teja grew up with self-effort
Mass Maharaja Ravi Teja .. There is an unknown energy in this name. Ravi Teja is one of the very few who have risen from the level of a hard-working actor in the film industry to Star Range. Chitra Seema did not lay the red carpet for Ravi Teja, who developed an interest in the film industry with his films on the show. He struggled a lot for opportunities. Worked as Assistant Director. While doing so, he became an actor. The hero has been disguised as a member of a group of friends and a member of a villainous gang.

However, the movie that turned his life around was 'Nikosam'. Was Ravi Teja the hero of the movie when it was announced? Those who thought so did not. The movie was released after some difficulties. The film got a very good name. Not just Sreenu Whites .. It is a movie that has brought good recognition to Ravi Teja as a hero.
At such a juncture, Puri Jagannath gave a break to Ravi Teja as a hero. Presenting heroism in a different body language, Ravi Teja's rise to unimaginable heights comes at the hands of filmmaker Puri. Puri wants to be his hero .. Ravi Teja has established himself on the silver screen with his performance to be ten times that. Itlu Shravani Subramaniam was a hit in the duo's combination but the subsequent films Idiot, Amma Nanna and a Tamil girl became blockbusters and shook the box office. With the success of these two films, Ravi Teja became a star hero.
The audience was enthralled with blockbuster films like Khadgam, Venky, Bhadra, Wickramarukdu, Dubai Sheen, Krishna, Kick, Mirpaikai, Balupu, Crack. On the one hand while making commercial movies my autograph has also appeared in different movies like Sweet Memories, Shambho Shiva Shambho. Ravi Teja, who brought new life to the characters in some movies, sang songs as a singer.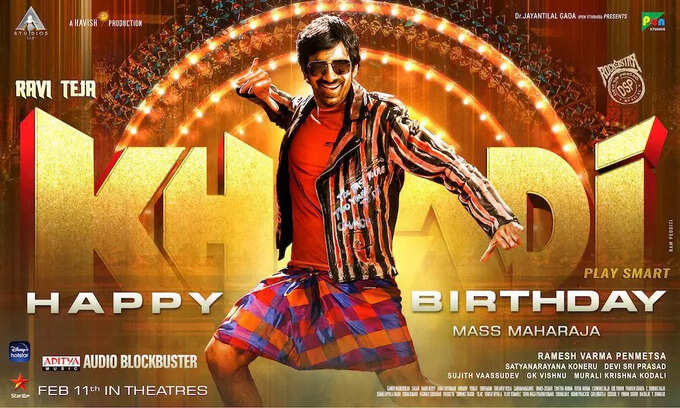 Ravi Teja is well anchored to new directors and young talent. Ravi Teja has worked with directors like Sreenu White, Gopi Chand Malineni, Boyapati Sreenu, KS Ravindra, Aneel Ravipudi and made successful films. Ravi Teja, who hit a blockbuster with Crack in 2021, is now busy with a series of films. Khiladi, who played his hero, is getting ready for the release of Rama Rao on Duty films while Dhamaka and Ravanasura films are on the sets. Apart from these, Ravi Teja has announced a new movie called Tiger Nageshwara Rao. Today is Ravi Teja's birthday (January 26), with the goal of entertaining the audience. On this occasion, he wants to celebrate Marenno's birthdays with the same energy as 'Samayam Telugu'.
.