Last Updated: 25 May, 2022 05:23 AM
Published: 25 May 2022 05:23 AM
Last Updated: 25 May 2022 05:23 AM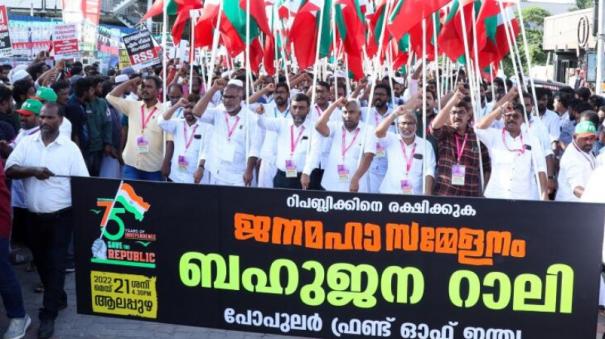 Thiruvananthapuram: More than a thousand Muslims marched during the Jana Maha Sammelan on behalf of the Popular Front of India (PFI) on the 21st in Alappuzha, Kerala.
The boy, who was then sitting on someone's shoulder, chanted furiously against Hindus and Christians. It was set up to incite sectarianism. Those who went to the meeting chanted the boy's slogan. The video has caused a stir on social media.
Alappuzha police have registered a case against Nawaz, the Alappuzha area leader of the PFI, and Secretary Majeeb. Anwar, from Kottayam in Kerala, picked up the boy. Police have registered a case against him. He is under serious investigation by the police. The State Child Welfare Commission is investigating.
The Kerala High Court yesterday issued a stern reprimand in this regard. The High Court has strictly ordered that minors should not be taken to political meetings in Kerala. It is learned that the High Court has decided to take up the matter under the Pokcho Act.
.