Hyderabad: In Andhra Pradesh, normal life has been greatly affected due to the all-out strike by the Telugu Desam Party.
Former Andhra Chief Minister and Telugu Desam Party leader Chandrababu Naidu was remanded in judicial custody for 14 days last night. Following this, the Telugu Desam Party has called for the ball today. Pawan Kalyan's Jana Sena party has also expressed support for this complete blockade.
Normal life has been widely affected in Andhra due to bandh. Schools and colleges are closed. All shops are closed. Buses are not running. Only one or two vehicles ply between Tirupati and Tirumala. Buses and autos are not running so the trains are crowded.
Meanwhile, the Telugu Desam Party is trying to picket and dharna here and there and the police are arresting them. Telugu Desam Party MLAs, MPs and former ministers have been placed under house arrest as a precautionary measure. Police have issued 144 prohibitory orders to maintain law and order.
Prisoner No. 7691: Prisoner number 7691 has been assigned to Chandrababu Naidu, who is lodged in Rajamahendravarmam Central Jail, Andhra Pradesh. He has been given permission to provide home food, pills and medicines. He is allotted a room with basic facilities. Meanwhile, his lawyers will file a petition seeking his bail today. Apart from this, a petition will be filed by the CIT seeking permission to take him into custody for 15 days and interrogate him. It is noteworthy that Chandrababu Naidu has been ordered to be kept in judicial custody till the 22nd.
Case Background: During the Chandrababu Naidu regime (2014-19) it was decided to provide training to the students of technical colleges including engineering colleges through Siemens in Skill Development Corporation for youth employment. For this Rs. 33,000 crores, of which the Andhra Pradesh government has provided 10 per cent funding. 10 percent and GST Rs. 40 lakhs to a total of Rs. 371 crores was given to Siemens by the then Chandrababu Naidu government with the approval of the Andhra Pradesh Cabinet. Out of which Rs. In 2021, the current Jagan government alleged that there was a 118 crore scam and that Chandrababu Naidu was involved in it.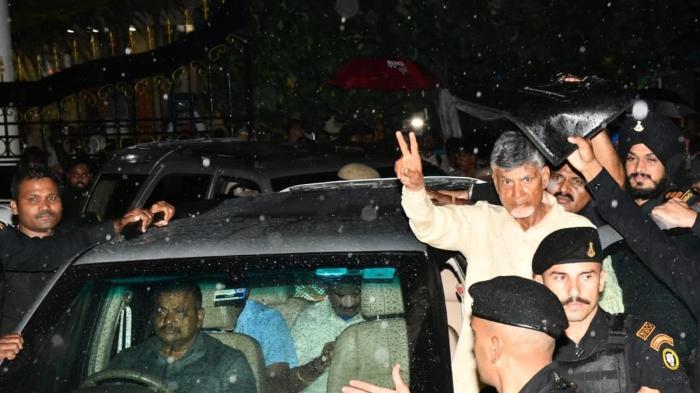 The CIT police registered a case in this regard in 2021. But in the absence of any action, the Jagan government has decided to speed up the case against Chandrababu Naidu, the leader of the main opposition party, Telugu Desam, as the assembly elections are coming up next year.
Upon that. At around 1 am last Friday, the CID police arrested Chandrababu Naidu, who was sleeping in a bus after completing his tour at the Nanthiyalam RK wedding hall near Kurnool.