The head of the Russian Wagner Group, Yevgeny Prigozhin, announced that fierce battles are taking place in the city of Bakhmut in eastern Ukraine, pointing out that the Russian forces are continuing to move forward, and that ammunition has begun to arrive.
"Today, the maximum advance of the units was 130 meters, and approximately 2.36 square kilometers are still under enemy control," Prigozhin said, according to what his media office reported via Telegram, Monday.
He also added, "The fighting in Bakhmut is fierce, and the units are moving forward and will continue," adding, "We have begun to receive ammunition," according to the Russian "TASS" agency.
received a "promise"
It is noteworthy that after threatening to withdraw his forces from Bakhmut, Prigozhin confirmed on Sunday that he had received a "promise" from the Russian army to obtain more weapons and ammunition.
He said in statements carried by his accounts on Telegram that he had received a promise to obtain ammunition and weapons as much as his group needed to continue fighting.
From Bakhmut (archive from Reuters)
Corpses and insults video
These statements came after Prigozhin, who was once described as close to Russian President Vladimir Putin and the Kremlin cook, set the tenth day of this month for the complete withdrawal of his forces from the Ukrainian city.
It also came after he appeared in a video, with the corpses of his fighters behind him, insulting the Russian Defense Minister, Sergei Shoigu, and the Ministry of Defense, and directing sharp criticism of the military in Moscow, accusing them of depriving his fighters in Bakhmut of ammunition, and stressing that he would not be able to continue this war of attrition.
Wagner and Kadyrov
On Saturday, Wagner's chief announced that he had asked Moscow for permission to hand over his group's sites in Bakhmut, the center of the fighting in eastern Ukraine, to the forces of Chechen leader Ramzan Kadyrov, in protest of the lack of ammunition. In a letter addressed to Shoigu, he said, "I ask you to issue a combat order before midnight on the tenth of May, to transfer the positions of the Wagner Group to the units of the Akhmat Battalion in and around Bakhmut," accusing the Chief of Staff of providing him with only 32% of the ammunition required since last October.
While Kadyrov confirmed, via Telegram, his fighters' readiness to take over the Russian sites in the city, in the event of Wagner's withdrawal. On Saturday, he said via Telegram that his forces were "ready to move" towards Bakhmut.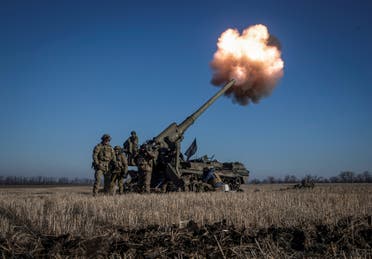 Ukrainian forces in Bakhmut (archive from Reuters)
For months, Prigozhin has been accusing the Russian General Staff of not supplying his group with a sufficient amount of ammunition to prevent it from achieving a victory in Bakhmut that the regular army is unable to achieve, which incurred heavy losses in recent months in its attempt to control the entire Ukrainian city, after it took control of a large part of it.
While the Kremlin denies that there is any tension in the ranks of its forces fighting on Ukrainian soil, Prigozhin's statements prove the opposite.