Came the day! This Friday, April 14, a new edition of the Coachella Festival will begin, which will last six days and will take place at the Empire Polo Club. This programming will occupy this weekend and will be repeated on April 21, 22 and 23. This event will have the participation of great artists of the moment, such as Bad Bunny, BLACKPINK, Frank Ocean, Gorillaz, Rosalía and Björk. The good news for all the fans of these celebrities is that they will be able to enjoy the show, completely free, through YouTube.
Bad Bunny and Blackpink headline the Coachella 2023 poster. Photo: Instagram/ Bad Bunny/ Backpink
YOU CAN SEE: Coachella 2023: Bad Bunny and Blackpink lead the music festival poster
When is the Coachella 2023 festival?
Coachella 2023 will be held for two weeks, from April 14 to 16 and from April 21 to 23.
Where to watch Coachella 2023 LIVE?
The official Coachella channel on YouTube will broadcast the event live from 6:00 p.m. (Peruvian time) on Friday, April 14. Likewise, six channels will be in charge of broadcasting the performances of each stage live during the two weekends: the Coachella Stage, Outdoor Theatre, Sahara, Mojave, Gobi and Sonora.
The transmission in the six stages will be simultaneous, and YouTube has also announced that it will share exclusive content of the festival between each presentation.
What Latino artists will be present at Coachella 2023?
This edition of the Coachella Festival will feature the participation of important Latino artists, such as Bad Bunny, who will be the first Spanish-speaking artist to lead the festival. Kali Uchis will perform for the first time at the event. Other Latin artists who will be part of this celebration are Becky GDanny Lux, Téo?, Eladio Carrión, Los Fabulosos Cadillacs, The Linda Lindas, Conexión Divina and Los Bitchos.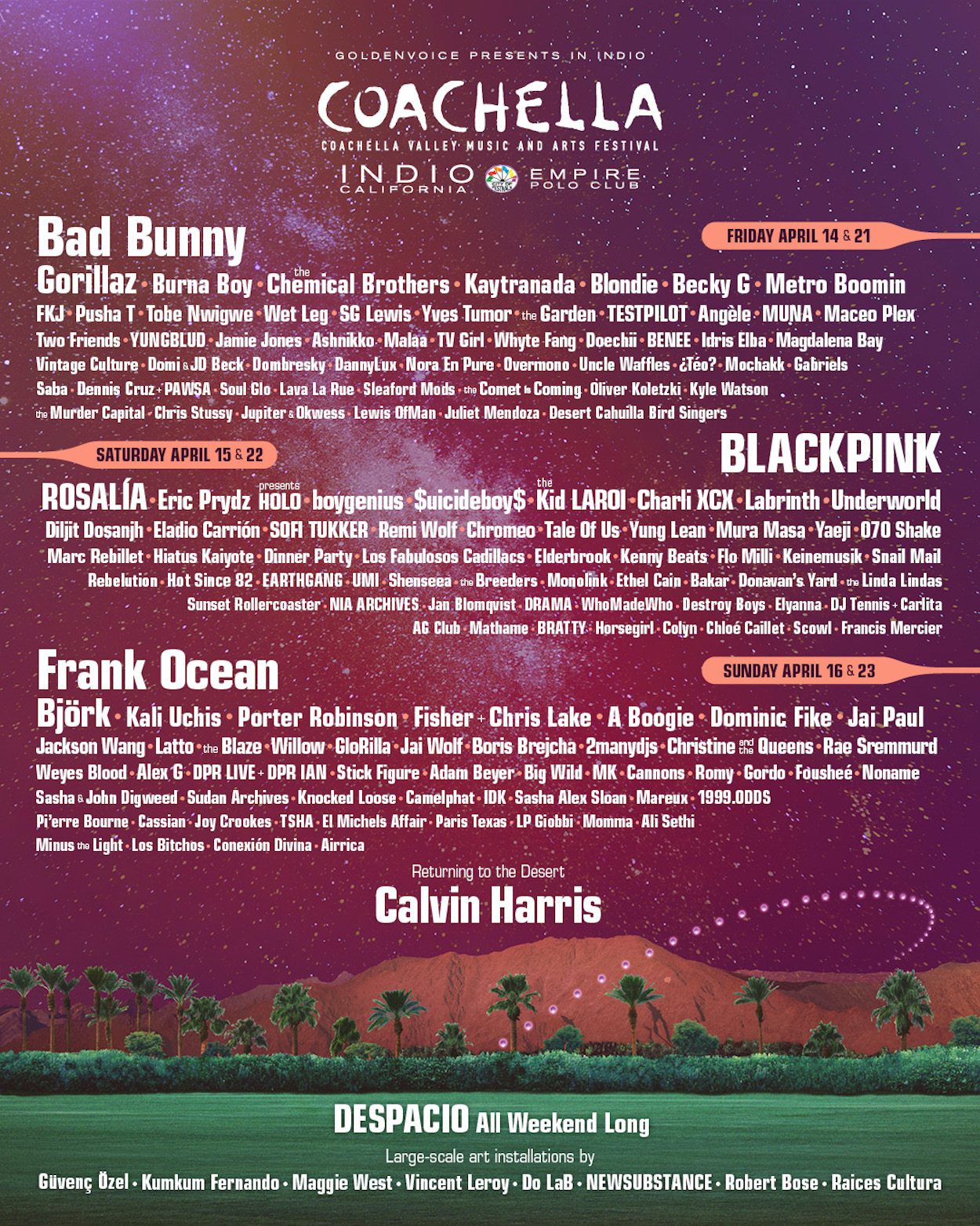 Coachella 2023 Lineup. Photo: Coachella
YOU CAN SEE: Billie Eilish and Hayley Williams sang "Misery business" on stage at Coachella 2022
Coachella 2023: schedules for Friday, April 14
The most anticipated artist of the festival Coachella 2023 It is Bad Bunny, who will appear at 1:25 am (Peruvian time).
Bad Bunny (01.25, Coachella)
Maceo Plex (01.15, Yuma)
Subway Boomin (00.35, Sahara)
FKJ (00.35, Mojave)
Ashnikko (00.35, Gobi)
The Chemical Brothers (23.50, Outdoor)
TESTPILOT (23.45, Yuma)
Uncle Waffles (23.30, Sonora)
Whyte Fang (23.25, Gobi)
Two Friends (23.20, Sahara)
Angèle (23.10, Mojave)
Gorillaz (22.35, Coachella)
The Garden (22.15, Gobi)
Mochakk (22.15, Yuma)
Jamie Jones (22.05, Sahara)
Sasha Alex Sloan (21.40, Sonora)
Blondie (21:35, Mojave)
Kaytranada (21.30, Outdoor)
Burna Boy (21.05, Coachella)
Yves Tumor (21.05, Gobi)
Blink-182 (20.45, Sahara)
Idris Elba (20.45, Yuma)
SG Lewis (20.10, Outdoor)
Wet Leg (20.00, Mojave)
TV Girl (19.55, Sound)
Tobe Nwigwe (19.45, Gobi)
Becky G (7:45 p.m., Coachella)
Nora In Pure (19.30, Yuma)
Vintage Culture (19.20, Sahara)
Yungblud (18.55, Outdoor)
Muna (6:50 p.m., Mojave)
Magdalena Bay (18.50, Sonora)
Pusha T (6:30 p.m., Coachella)
Overmono (18.25, Gobi)
Malaa (18.15, Sahara)
Dennis Cruz + Paw$a (18.15, Yuma)
Benee (5:45 p.m., Mojave)
Saba (17.45, Outdoor)
DannyLux (17.40, Sonora)
Doechii (5:30 p.m., Coachella)
Gabriels (17.20, Gobi)
Dombresky (10.17, Sahara)
Oliver Koletzki (5:00 p.m., Yuma)
Soul Glo (16.55, Sonora)
Record Safari (4:50 p.m., Coachella)
Domi & JD Beck (16.40, Mojave)
The Comet Is Coming (16.30, Outdoor)
Theo? (16.20, Gobi)
Lava La Rue (16.00, Sonora)
Kyle Watson (4:00 p.m., Yuma) Mary Jane (4:45 p.m., Sahara)
Lewis OfMan (15.40, Mojave)
Jupiter & Okwess (15.20, Gobi)
The Murder Capital (10.15, Sonora)
Chris Stussy (3:00 p.m., Yuma)
Juicewon (15.00, Outdoor)
Desert Cahuilla Bird Singers (14.45, Gobi)
Black Jade (2:30 p.m., Mojave)
Juliet Mendoza (2:00 p.m., Yuma)
Jim Smith (2:00 p.m., Sonora)
BLACKPINK's Jennie, Jisoo, Lisa, and Rosé will sing along with Rosalía on the main stage at Coachella 2023. Photo: Composition NME/YG
Coachella 2023: schedules for Saturday, April 15
BLACKPINK (23.00, Coachella)
Donavan's Yard (01.55, Gobi)
$uicideboy$ (01.45, Sahara)
Calvin Harris (01.35, Coachella)
Keinemusik (01.00, Yuma)
Chromeo (00.40, Gobi)
Labrinth (00.35, Mojave)
The Kid Laroi (00.20, Sahara)
Eric Prydz Presents Holo (00.20, Outdoor)
Nia Archives (00.00, Sonora)
Monolink (23.30, Gobi)
Hot Since 82 (23.30, Yuma)
Underworld (23.05, Mojave)
Bakar (23.00, Sonora)
Eladio Carrión (22.20, Gobi)
Boygenius (22.10, Outdoor)Tale of Us (22.05, Sahara)
WhoMadeWho (22.00, Yuma)
Sunset Rollercoaster (21.55, Sonora)
Jai Paul (21.40, Mojave)
Rosalia (9:00 p.m., Coachella)
Yaeji (21.00, Gobi)
Diljit Dosanjh (20.50, Sahara)
Jan Blomqvist (20.45, Yuma)
The Breeders (20.40, Sonora)
Sofi Tukker (20.35, Outdoor)
Remi Wolf (20.25, Mojave)
Shenseea (19.55, Gobi)
Charli XCX (7:35 p.m., Coachella)
The Linda Lindas (19.35, Sonora)
Elderbrook (19.30, Sahara)
DJ Tennis + Carlita (19.30, Yuma)
Mura Mass (19.20, Mojave)
Hiatus Kaiyote (19.20, Outdoor)
Dinner Party (18.40, Gobi)
Ethel Cain (6:30 p.m., Sonora)
070 Shake (18.20, Coachella)
Kenny Beats (18.20, Sahara)
Yung Lean (18.15, Mojave)
Mathame (18.15, Yuma)
Earthgang (18.10, Outdoor)
IMU (17.35, Gobi)
Destroy Boys (17.35, Sonora)
Flo Milli (17.20, Sahara)
Snail Mail (17.10, Mojave)
Marc Rebillet (5:00 p.m., Coachella)
Rebelution (17.00, Outdoor)
Colyn (5:00 p.m., Yuma)
Bratty (16.40, Sonora)
Elyanna (4:30 p.m., Gobi)
Brn Luxxry (16.20, Coachella)
AG Club (10/16, Mojave)
Chloé Caillet (4:00 p.m., Yuma)
Venessa Michaels (15.50, Sahara)
Scowl (15.45, Sonora)
Yimbo (15.40, Outdoor)
dxsko (15.10, Gobi)
Francis Mercier (3:00 p.m., Yuma)
Horsegirl (15.00, Sonora)
Horsegirl (1.00, Sonora)
wave Groove (14.50, Mojave)
Talon (14.00, Yuma)
Buster Jarvis (2:00 p.m., Sonora)
Coachella 2023: schedules for Sunday, April 16
Frank Ocean (00.05 Coachella)
Bjork (09.25, Coachella)
Kali Uchis (08.00, Coachella)
Porter Robinson (06.45, Coachella)
Fisher + Chris Lake (22.40, Outdoor)
To Boogie (23.05, Sahara)
Dominic Fike (20.50, Outdoor)
Jackson Wang (20.45, Sahara)
Latto (19.00, Sahara)
The Blaze (22.55, Mojave)
Willow (9:45 p.m., Mojave)
Glorilla (5:40 p.m., Coachella)
Jai Wolf (21.45, Sahara)
Boris Brejcha (01.20, Sahara)
2manydjs (19.55, Gobi)
Christine and the Queens (20.25, Mojave)
Rae Sremmurd (19.40, Outdoor)
Weyes Blood (19.15, Mojave)
Alex G (20.00, Sonora)
DPR Live + DPR IAN (23.20, Gobi)
Stick Figure (17.00, Outdoor)
Adam Beyer (11:00 p.m., Yuma)
Big Wild (18.15, Outdoor)
MK (18.00, Sahara)
Cannons (21.10, Gobi)
Romy (18.45, Gobi)
Gordo (00.30, Yuma)
Foushee (17.40, Gobi)
Noname (10/18, Mojave)
Sudan Archives (23.10, Outdoor)
Knocked Loose (22.10, Outdoor)
Camelphat (21:30, Yuma)
IDK (17.05, Mojave)
Sasha & John Digweed (20.00, Yuma)
Mareux (21.15, Outdoor)
Pierre Bourne (16.50, Sahara)
Cassian (6:30 p.m., Yuma)
Joy Crookes (16.45, Gobi)
TSHA (5:00 p.m., Yuma)
The Michels Affair (16.55, Outdoor)
Paris Texas (16.05, Mojave)
LP Giobbi (4:00 p.m., Yuma)
Momma (19.05, Outdoor)
Ali Sethi (15.50, Gobi)
Minus the Light (2:00 p.m., Yuma)
The Bitchos (15.55, Outdoor)
Divine Connection (15.00, Outdoor)
Airrica (15.00, Yuma)
The Fabulous Cadillacs (16.30, Coachella)
Jackq Glam (15.40, Outdoor)Sleaford Mods (18.00, Outdoor)
Argenis (14.00, Outdoor)
Drama (22.15, Gobi)
Gingee (14.30, Gobi)
DJ Lil Buddha (14.45, Mojave)
Løren (22.00, Sahara)
Wolfman (15.25, Sahara)