Jammu: Rahul Gandhi has said that the Congress party will use all its strength to get statehood for Jammu and Kashmir.
Rahul Gandhi's India Unity Yatra entered Jammu city today. At that time, a large number of people gathered and gave him a warm welcome. Also, they also joined Rahul Gandhi's Yatra for a walk. Speaking at that time, Rahul Gandhi said, "The biggest demand of the people of this state is to give statehood to Jammu and Kashmir. There is no bigger issue than the issue of statehood. Your rights have been taken away from you.
Congress party will support you to get statehood for Jammu and Kashmir. We will use all our strength for this. The people of Jammu and Kashmir shared with me their anguish that the rulers are not listening to their demands.
All trade in Jammu and Kashmir has now gone into the hands of outsiders. The people of this state have been reduced to simply having fun.
Unemployment is a major problem in Jammu and Kashmir. Before this, the army provided most of the employment. Currently, due to the new scheme brought by the central government in the name of Agniveer, the youth of Jammu and Kashmir are not getting employment in the army as well," he said.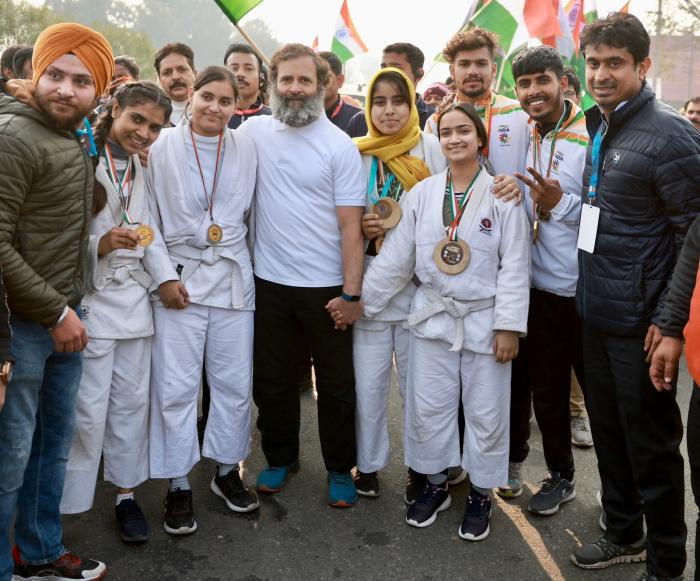 Section 370 of the special law in force in the state of Jammu and Kashmir was repealed in August 2019. Subsequently, the state of Jammu and Kashmir was divided into two Union Territories of Jammu and Kashmir and Ladakh. Following this, the political parties of the state are demanding that Jammu and Kashmir should be given statehood again.