Published: 26 Nov 2021 03:06 am
Updated: 26 Nov 2021 07:46 am
Published: 26 Nov 2021 03:06 AM
Last Updated: 26 Nov 2021 07:46 AM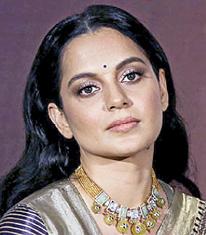 New Delhi
Actress Kangana Ranaut to appear on December 6 to comment on controversial remarks against Sikhs Delhi Committee of the Legislature Summon Has been sent.
Farmers in Punjab and Haryana have been waging a fierce struggle against the federal government's new agricultural laws. Actress Kangana Ranaut Kangana Ranaut's comment has been widely criticized by the Sikh community as insulting to Sikhs and portraying them as terrorists. A complaint has been lodged with the police against Kangana on behalf of the Akali Dal party.
In this case, to appear in person on December 6 to explain the controversial comments Delhi Aam Aadmi Party MLA Raghavsatta-led Peace and Religious Reconciliation Commission has sent a summons to actress Kangana Ranaut. The council said there had been a number of complaints about Kangana's comments and that the move was aimed at promoting religious harmony and peace among various communities.
.