New Delhi: 'In India Corona 3rd wave It will peak between February 1st and 15th. The R-value representing the corona distribution has now risen to 4 ' Chennai IIT Reported in the study.
The corona distribution is less if the R-value number is less than 1. When it goes 1 or higher, the corona spreads faster, which means how many people are infected by an infected person. Chennai IIT's Department of Mathematics has published a report on corona distribution based on India's R-value. The study was conducted by the Department of Mathematics, Computer Mathematics and Statistics, IIT Chennai.
In India, the R-value was 2.9 per cent from December 25 to December 31. However, from January 1 to 6, 2022, the R-value has risen to 4. As the R-value increases, the corona diffusion also increases
about this Chennai IIT Dr. Jayant Jah, Associate Professor, Department of Mathematics, says, "R-Value is based on 3 things. The first is based on the probability of transmission, the rate of contact, the duration of the infection and the duration of contact.
As isolated areas are set up and restrictions are increased, people's encounters with each other will decrease, and then the R-value will begin to decline. Otherwise the R-value will increase. I say these numbers based on the last two weeks' statistics, according to our initial study. But, this number is subject to change. This number will vary depending on how we are in control, the restrictions imposed, and our adherence to corona prevention rules.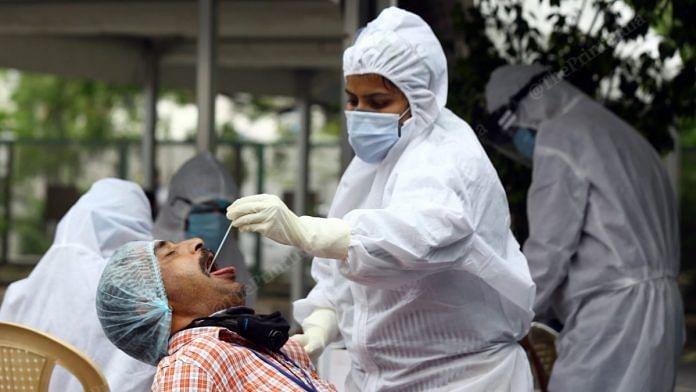 The R-value did not go above 1.69 points even when the corona 2nd wave peaked. However, the R-value has now risen to 2.69, according to the central government. But, we have reported based on the last 2 weeks statistics.
Thus, the 3rd wave of the corona, i.e. the wave we encounter, is likely to peak between February 1st and 15th and is likely to peak earlier than expected.
We have been over-vaccinated and many have been affected by the previous wave and have recovered. Therefore, this wave will be slightly different than the last wave. Adherence to individual exclusion has also declined as people have been vaccinated.
The first wave of corona brought more controls. But, now that the vaccine has been given, the controls are nothing big despite the increase in corona infections. But the big positive is that 50 per cent of the people in the country have been vaccinated, "said Jayant Jah.
.