Last Updated: 06 May, 2022 07:46 AM
Published: 06 May 2022 07:46 AM
Last Updated: 06 May 2022 07:46 AM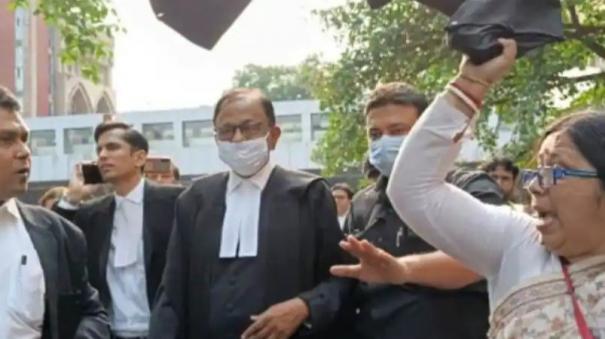 Kolkata: Congress workers engaged in a struggle against P. Chidambaram who went to argue against the welfare petition filed by Congress Lok Sabha leader Adir Ranjan Chaudhary.
West Bengal is ruled by the Mamata Banerjee-led Trinamool Congress. In 2017, the state government sold its 47% stake in Metro Dairy to Gewander Agro for Rs 80 crore. Over the next few weeks, Gewandar sold 15% of its stake to Singapore for Rs 135 crore.
Adir Ranjan Chaudhary, the Lok Sabha leader of the Congress party and the leader of the West Bengal Congress, has filed a welfare petition in the Kolkata High Court in 2018 alleging corruption. In the petition, he demanded that the CBI order an inquiry into the matter.
The case came up for hearing yesterday. Senior Congress leader P. Chidambaram then appeared on behalf of the counter-petitioner, Kevandar Agro. He argued that the welfare case should be dismissed. Later, a group of Congress lawyers surrounded P. Chidambaram, who came out of court, to protest against him.
At that time, they chanted as P. Chidambaram, the agent of the Trinamool Congress. A female lawyer chanted, "Look at P. Chidambaram as he walks towards his car, show off his black gown and go back." P. Chidambaram left the car without giving any answer. Thus there was a stir.
.