The man who killed 10 people on Saturday night (local time) during the Chinese New Year celebrations in Los Angeles may have been found dead in a white bus in which he had fled. Officers spotted the car a few hours after the drama.
Police launched a manhunt after the man opened fire at a dance hall. The man darted around at random. Ten people died and ten others were injured. Some of the injured are in critical condition in hospital.
According to Sheriff Robert Luna, information came in that the suspect had driven off in a white van. Officers found two of these types of vehicles just over 25 miles from Monterey Park where the shooting took place. One was parked and turned out to be a false alarm. The other bus was trapped and surrounded for more than two hours. Live footage captured from a helicopter showed two armored police vehicles blocking the front and rear of the car.
After the car was inspected with drones, heavily armed officers smashed the window of the co-driver's seat. The images showed how a driver was bent forward on the steering wheel. It may be the deceased shooter, but the police have not yet confirmed that. According to local media, shots were heard during the encirclement. It is still unclear whether these came from the suspect himself or from officers.
Los Angeles Police Department released a number of photos of the shooter during the search. It shows a man of Asian descent, dressed in a black coat and with a hat on his head. His age was estimated to be between 30 and 50 years old. The police state in the report that this man is probably also involved in another incident at another nightclub fifteen minutes later. Here he wanted to enter with his weapon, but bystanders managed to take it from him after a struggle, after which he fled, Sheriff Robert Luna told a press conference.
'completely random'
There was widespread panic after the first shooting. Seung Won Choi, owner of a seafood barbecue restaurant near the dance hall, told the Los Angeles Times that three people rushed into his place in a panic and shouted for him to lock the door. They had fled from a man who had opened fire in a dance hall. He would have had ammunition with him to reload his semi-automatic rifle.
Wong Wei, who lives nearby, told the newspaper that his girlfriend was in the bathroom of the dance hall when the shooting started. "When she came out, she saw a gunman and three bodies." The woman fled to her boyfriend's home. Wei later learned from friends that the gunman appeared to be shooting indiscriminately with a long-barreled firearm.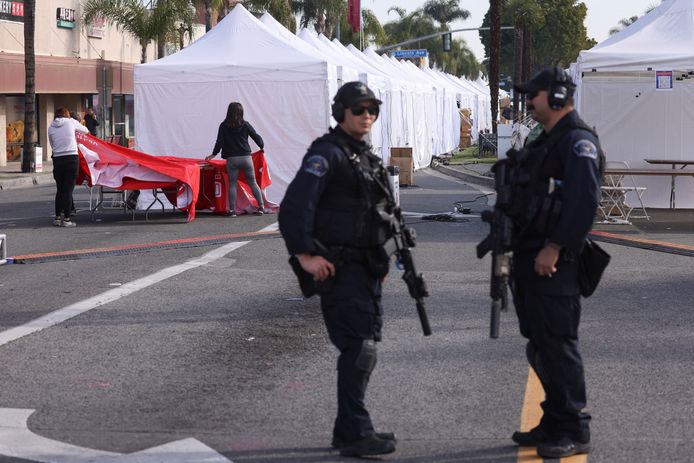 Free unlimited access to Showbytes? Which can!
Log in or create an account and don't miss a thing of the stars.

Yes, I want free unlimited access