Last Updated: 13 May, 2022 06:14 AM
Published: 13 May 2022 06:14 AM
Last Updated: 13 May 2022 06:14 AM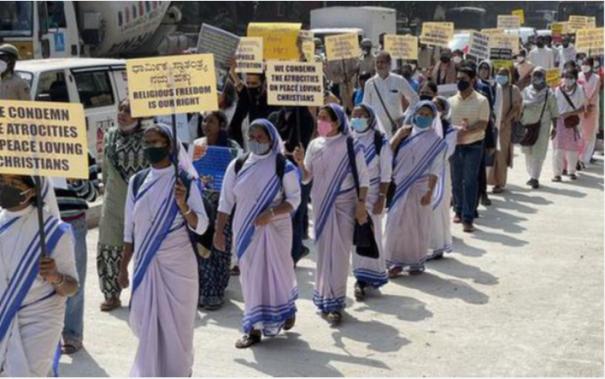 Bangalore: SC in the state of Karnataka. S.D. Complaints arose that members of the sect were increasingly converting to Christianity. Following this, Chief Minister Basavaraj dropped the toy in an attempt to bring in the Prohibition of Conversion Act.
This was opposed not only by Christian and Muslim organizations but also by opposition parties such as the Congress and the Majatha. Thus the bill was not tabled in the legislature where the BJP does not have a majority. Karnataka Law Minister Madhusamy said yesterday:
The Prohibition of Conversion Bill was passed by a voice vote in the Legislature on December 23 last. For various reasons, we did not file this bill in the legislature. We have approved to bring it into the emergency law after discussing it in the cabinet.
According to Article 213 of the Constitution of India, the Governor can, if necessary, pass an emergency law in the absence of a sitting of the Legislative Assembly. Therefore, the government has decided to issue a decree in this regard. With the passage of this emergency law, we have decided to approve it in the next 6 months within the legislature and the upper house. "
Commenting on this, Karnataka Congress leader DK Sivakumar said, "Why is the Karnataka government in such a hurry on the issue of anti-conversion law? Will this provide employment to unemployed youth? Congress will oppose this law, which deprives minorities of their rights, both inside and outside. "
.