Chennai: Four-time champions Dhoni-led Chennai Super Kings (CSK) defeated defending champions Gujarat Titans by 15 runs in the first qualifying round of the IPL T20 cricket series playoffs.
Batting first, CSK scored 172 runs for the loss of 7 wickets in the allotted 20 overs in the Qualifier Round – 1 match held yesterday at the MA Chidambaram Stadium, Chepakkam, Chennai. Openers Ruduraj Gaekwad and Daven Conway gave a steady start. Ruduraj Gaekwad scored 60 off 44 balls, including a six and 7 boundaries, when Mohit Sharma tossed the ball towards long on and was caught by David Miller. Ruduraj Gaekwad added 87 runs in 10.3 overs along with Daven Conway for the first wicket.
After that Shivam Dubey scored one run in 3 balls and Noor Ahmed was bowled. Ajinkya Rahane scored 17 runs off 10 balls while Darshan Nalkande was dismissed. Daven Conway, who batted calmly, added 40 runs off 34 balls with 4 boundaries and took the wicket of Shamiband. Ambati Rayudu got out with 17 runs off 9 balls. Ravindra Jadeja scored 22 runs off 16 balls with 2 sixes and Mohammad Shami was bowled.
Captain Dhoni scored one run in 2 balls and Mohit Sharma was dismissed to the disappointment of the fans. Moeen Ali remained unbeaten with 9 runs off 4 balls. Mohammad Shami and Mohit Sharma took 2 wickets each for Gujarat team. Darshan Nalkande, Rashid Khan and Noor Ahmed took one wicket each.
Batting with a target of 173 runs, the Gujarat team lost wickets at regular intervals. Writdiman Saha was out for 12 off Deepak Chahar. Captain Hardik Pandya took the wicket off Deeksana for 8 runs. Jadeja dismissed Dasan Shanaka (17) and David Miller (4). A relaxed Shubman Gill scored 42 off 38 balls with a six and 4 boundaries when Deepak Sahar was caught by Daven Conway when he flicked the ball towards deep square leg.
At one stage, Gujarat scored 95 runs for the loss of 5 wickets in 14 overs. Vijay Shankar and Rahul Dewatia were in the field when 78 runs were needed for victory in 36 balls. Dewatia (3) caught Stem off the first ball of the 15th over by Deeksana. Then Rashid Khan came into action. 7 runs added in this over. In the next over bowled by Pathirana, Rashid Khan got a six each and a boundary for 13 runs. In the 17th over bowled by Tusshar Deshpande, Vijay Shankar hit a six and Rashid Khan hit a six and a four to give Gujarat 19 runs. This made the game more exciting. 39 runs were needed from the last 3 overs to win. Vijay Shankar (14) was dismissed in the 3rd ball of the 18th over bowled by Pathirana. Darshan Nalkande (0) was run out on the next ball. Pathirana conceded only 4 runs in this over. It was a turning point.
Needing 35 runs off 12 balls, the pressure was on for Gujarat. Rashid Khan, who drove the first ball of the 19th over by Dusshar Deshpande for a boundary, was caught by Daven Conway as he hit the third ball towards deep point. Rashid Khan added 30 runs off 16 balls. After this, Shami, who entered the field, scored 8 runs in this over. 27 runs were required in the last over bowled by Bhadirana. Mohammad Shami (5) was dismissed in the last ball after adding 11 runs in the first 5 balls. In the end, Gujarat lost all their wickets for 157 runs in 20 overs. Noor Ahmed remained unbeaten with 7 runs.
CSK won by 15 runs to reach the final for the 10th time. The defeated Gujarat team will participate in the 2nd match of the qualifying round in Ahmedabad on 26th. If they win this, Gujarat team has a chance to qualify for the finals. Deepak Chahar, Deeksana, Jadeja and Pathirana took 2 wickets each for CSK.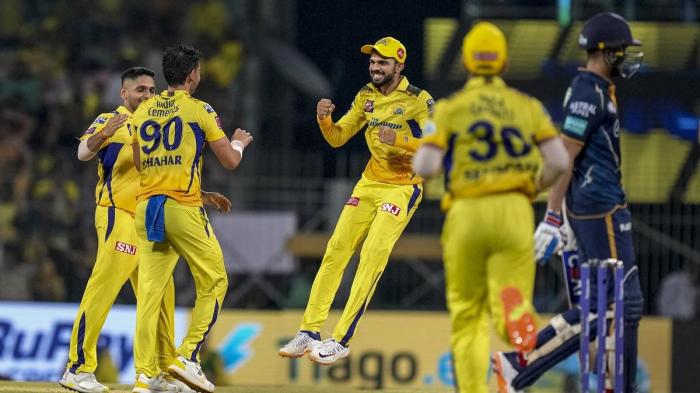 Towards the 5th trophy…
Chennai Super Kings beat Gujarat Titans to enter the finals of the IPL play-offs held yesterday in Cheppak. This is CSK's 10th appearance in the final. Before this, the CSK team led by Dhoni had participated in the final 9 times and won 4 times. CSK is now on its way to the 5th trophy.
Game stopped by Pathirana
When Madisha Pathirana came to bowl the 16th over, the umpire stopped her. The umpire said that he could bowl only after he had spent 9 minutes on the field and immediately came to bowl. Dhoni spoke to the referee about this. Due to this, the game was interrupted for about 5 minutes. Then the umpire allowed Pathirana to bowl one way.
500 saplings per dot ball..
The IPL play offs started yesterday at Chennai's Chepakkam stadium. On the occasion of this match, BCCI released a special announcement to emphasize green awareness. According to this, 500 saplings will be planted for every dot ball bowled in the play off round. In this way, a total of 84 dot balls were thrown in the match between CSK and Gujarat Titans. Gujarat team bowled 34 dot balls and CSK 50 dot balls. Through this match, 42,000 saplings will be planted on behalf of BCCI.
Ruduraj escaped
Rudraaj Gaekwad was on 2 when Darshan Nalkande took a catch to Shubman Gill at midwicket. It was declared a no-ball before the Gujarat team celebrated. Ruduraj got into good rhythm by hitting a six on the alternate delivery and a boundary on the next delivery.
Jadeja 150
CSK's Jadeja took the wicket of Dasan Shanaka in yesterday's match. It was Jadeja's 150th wicket in the IPL series. Jadeja also became the 3rd player to score 1000 runs in batting and 150 wickets in bowling. Jadeja has scored 2,677 runs in batting. Dwayne Bravo holds the top spot in this category with 1,560 runs and 183 wickets. Sunil Narine has 1,046 runs and 163 wickets.
Hello for the first time..
Darshan Nalkhande, who made his debut for Gujarat this season, shared the new ball with Mohammad Shami. This is the 4th time this has happened in the play off round in IPL history.