Published: 28 Feb 2021 03:18 am
Updated: 28 Feb 2021 06:52 am
Published: 28 Feb 2021 03:18 AM
Last Updated: 28 Feb 2021 06:52 AM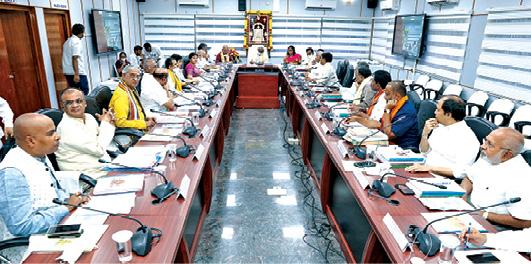 திருமலை
Tirupati Devasthanam has decided to allow devotees for the services earned from April 14, the Tamil New Year.
The Devasthanam Board of Trustees meeting was held at Annamayya Bhavan in Thirumalai yesterday under the chairmanship of Subbaretti. Of this, a unanimous decision was taken to budget Rs 2,937.82 crore for the year 2021-21. Trustee Subbaretti later told reporters:
For the past one year, permission for services earned by devotees has been suspended due to corona conditions. Devotees will be allowed direct access to all services as usual from April 14. The online booking date for this will be announced soon.
In which strict corona restrictions are followed. Steps will soon be taken to vaccinate all Devasthanam employees.
Following the success of the Koilukkor Komata project, a request has been made to the Central Government to declare the cow as a national animal.
Like the Ezhumalayan temple, steps will be taken to set up a Tulabaram at the Thiruchanur Padmavathi Mother Temple. Soon the Ezhumalayan Temple will be built in Mumbai, Jammu.
It has been decided to provide alms to the devotees walking to Thirumalai via Sri Wari Path. With the permission of the Sri Rama Charitable Trust in Ayodhya, steps will be taken to build a wedding hall or hostel for devotees on behalf of the Thirumalai Tirupati Devasthanam near the temple.
Thus the Chairman of the Board of Trustees, Y.V. Subba Reddy spoke. The meeting was attended by members of the Board of Trustees and senior officials of Devasthanam.
.