As Union Education Minister Dharmendra Pradhan Inaugurated today. That India's education system has taken an astounding step in the new education policy Dharmendra Pradhan Praised.
Annapurna Devi, Subhas Sarkar and Rajkumar Ranjan have been appointed as Joint Ministers for Central Education.
Son of former Union Minister Devendra Pradhan Dharmendra Pradhan Prior to this he was the Minister of Petroleum. He has been assigned the education portfolio in the cabinet reshuffle.
Dharmendra Pradhan, who was elected MP from Bihar's Deogarh Lok Sabha constituency in 2004, lost the 2009 assembly elections and was subsequently promoted to BJP national secretary and general secretary.
In 2012, he became the state MP from Bihar Dharmendra Pradhan Elected as the Minister of Petroleum in 2014 when Modi became the Prime Minister Dharmendra Pradhan Was appointed.
When the Union Minister was transferred in 2017, Dharmendra Pradhan He was elevated to the rank of Minister of Privilege and was additionally given the category of Skill Development and Entrepreneurship.
When the government headed by Prime Minister Modi was formed in 2019, he was the Minister of Petroleum Dharmendra Pradhan Was. Appointed by Ramesh Pokri to the Department of Education. Due to his ill health, the education department under his care has been handed over to Dharmendra Pradhan.
West Bengal Bangaru constituency MP Subhash Sarkar and BJP vice-president Annapurna Devi have been appointed as joint ministers of education. Annapurna Devi, a member of the Rashtriya Janata Dal (RJD), left the party and joined the BJP.
Third, Rajkumar Ranjan Singh has been appointed as the Joint Minister. Rajkumar Ranjan, originally from Manipur, completed his Masters in Geography from the University of Guwahati in 1972 and obtained his PhD from the University of Manipur.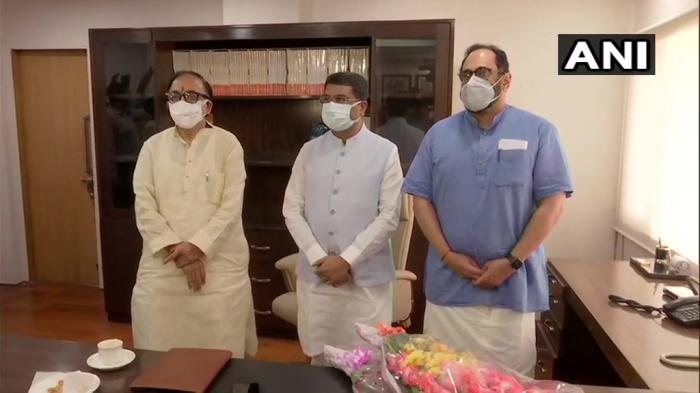 Rajkumar was a Professor in the Department of Geology at the University of Manipur and was the Registrar of the University from 2004 to 2008. He joined the BJP in 2013 and lost the Lok Sabha elections.
As Union Education Minister Dharmendra Pradhan He became a minister in his office in Delhi.
He said, "The Indian education system has taken a huge step forward with the introduction of the new education policy. To create the environment for a future India. This policy has been welcomed not only by India but also by the rest of the world. The role of youth and students is important to take India towards an incomparably intelligent community. "
.