MUMBAI – Young pacers Shivam Mavi and Umran Malik were the reason why India defended 162 runs on a Baka batting pitch and beat Sri Lanka by 2 runs in the first T20I at the Wankhede Stadium.
Ishan Kishan to score 37 runs in batting. Akshar Patel and Deepak Hooda scored 68 runs in the last 5.5 overs and contributed to the victory of the Indian team.
The game was so close because he bowled the 19th over to Harshal Patel. But Hardik Pandya did not bowl the last over and gave it to Axar Patel which shocked many. This fortunately did not affect success. Although Hardik Pandya bowled 3 overs and gave only 12 runs, it seems that his tendency to escape was that he did not bowl an over.
Hardik Pandya can boast of giving Axar Patel the ball when Sri Lanka needed only 13 runs to bowl after winning the over and it was a great strategic decision to prepare everyone for all situations. But, in reality, it seems that he has no confidence in his delivery. And he didn't have the courage to bowl the last over. He confided in Axar Patel if anything untoward happened. The popular opinion seems to be that Axar bowled badly and lost the game. Knowing this, we can't help thinking that Hardik Pandya has not bowled.
The big risk given to Axar Patel is that Samika Karunaratne is at the crease for 15 runs with a six, and if he hits 2 sixes the match will be over. If it was empty, would Hardik Pandya be proud to say that he tried experimenting? Or would he have said, as he has just said, that bowlers should be prepared for all conditions? That is our question.
Karunaratne hits a six with ease. Pulls his front leg back and puts it over mid-wicket for a single, delivery for a six. 5 runs needed from 3 balls. A boundary is enough. That's the story of the Indian team. He moves as he sees it before the next ball arrives. In the end Axar Patel missed the ball thinking it was wide, it was not wide. 4 runs needed off the last ball, 109km from Aksar Karunaratne couldn't hit it past mid-wicket. Somehow the Indian team won.
But, justifying his decision, Hardik Pandya said, "We might have lost a couple of matches here and there. That's not a problem. I wanted to play this team in tough conditions. This will help in big matches. We are playing well in bilateral series. So this is how we should challenge ourselves. To put it bluntly, the young players were the ones who got the win today," says Hardik Pandya, showing his captaincy skillfully, and this is because of the win.
"This is how we challenge ourselves," says Hardik, so he should have bowled the last over? First of all, captaincy is about putting yourself up to the challenge as a captain. It is natural to think that Hardik Pandya may have thought that it would be okay if he lost the over to Akshar Patel, wondering where we would lose when he had the over and put aside the bad name for us.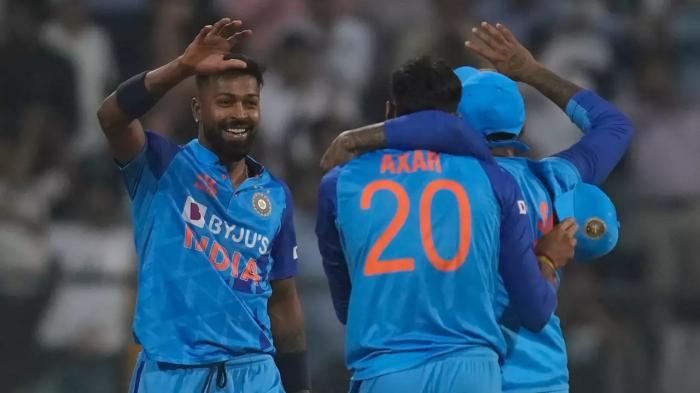 It doesn't matter if he doesn't have an over, or he has been caught in the 3 overs he has bowled, so today is not our day, so it doesn't matter if he has given Axar to bowl another bowler. But, Hardik Pandya has given only 12 runs in 3 overs. Then why didn't he bowl the last over and give it to Axar Patel? This is where it makes us think that he himself has doubts about his bowling.
And another doubt on Hardik Pandya's captaincy is that Hardik Pandya should have bowled the last 2 overs when he needed 29 runs to win, but gave it to Harshal Patel, who bowled the over badly. No-ball, wide, 2 bulldoze, bowled short pitched as one pitched down his leg. This is why the score was 13 in the last over. By now Hardik Pandya himself must have decided to bowl the last over. But how can I accept Akshar Patel if I am going to give him a fire test and just step aside and prepare his teammates for the challenge?
Firstly, the captain is also an all-rounder who knows how to bowl. Hardik has seen a lot of pressure situations in the IPL series. If his 19th over was not enough and he called Akshar Patel to bowl, the question arises whether a selfish captain like Hardik Pandya can take the Indian team to the top.